Award-winning illustrator, creative director, graphic novelist, and animation art director. He began his career in Detroit Michigan as a technical illustrator, but his dream was to be a cartoonist. When he decided, Morrison had rendered his last diesel fuel pump, only to move to Southern California. He also created a 96-page graphic novel adaptation of The Beatles Yellow Submarine for Titan Comics. Most recently, He was the Executive Editor of the newly relaunched MAD Magazine, and Art Director for Seriously's "Best Fiends" animated shorts. His online portfolio can be viewed at https://www.theispot.com/artist/bmorrison
I began working immediately in motion picture advertising where I painted dozens of movie posters, including many for Walt Disney Pictures, such as The Little Mermaid, Bambi, Peter Pan, Cinderella, and The Jungle Book.
For several years I spent most of my waking hours on various projects related to The Simpsons. For that iconic property I created thousands of drawings for T-shirts, video games, posters, toy packaging, books, calendars, limited edition prints, etc.
When The Simpsons creator Matt Groening founded Bongo Comics, I was hired on as art director and realized my cartoonist dreams when I drew the very first Simpsons comic. I quickly took on the role of Creative Director, editing Bongo's entire output, and writing and drawing stories and covers as time permitted.
I also worked with Groening on early character designs for the TV show Futurama and served as the series art director. I also recently served as Artist and Designer on Groening's Netflix series, Disenchantment.
In addition to my work on The Simpsons and Futurama comics, I have written and drawn my own comic book series; the four-time Eisner Award-nominated Roswell, Little Green Man and co-created three other comic book series, Heroes Anonymous, Dead Vengeance, and Lady Robotika (the latter with Jane Wiedlin of the legendary all-girl rock band, The Go-Go's).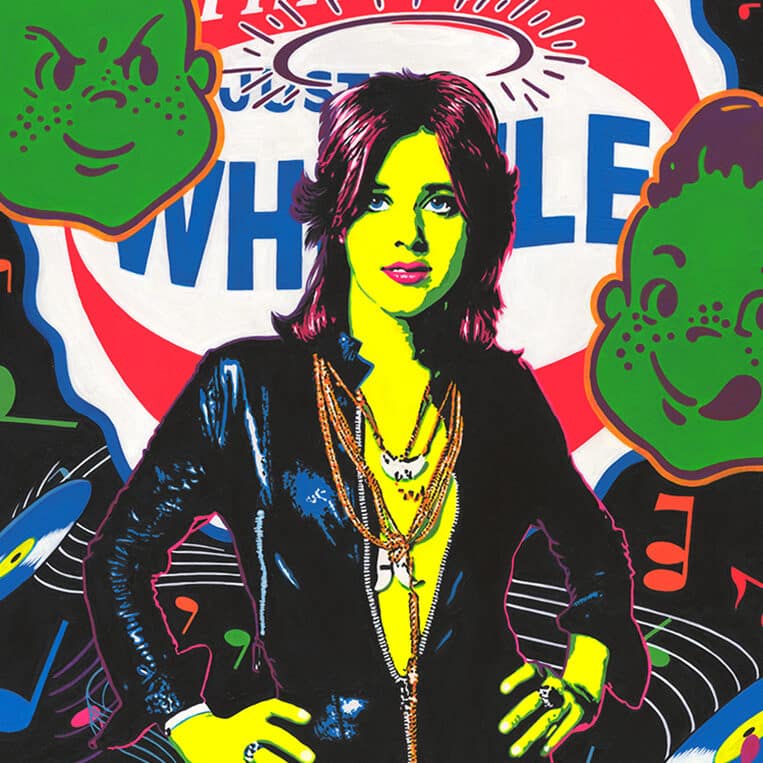 I love the time period of the 1940's and 50's, so I started to populate my pitch with things that I liked from that era…vintage cars, pin-up girls, cowboys, atomic movie monsters, etc. I made a presentation to Matt, and he liked it and agreed to publish it. Unfortunately I only got six issues done before Matt came up with Futurama and needed me to split my time between editing Bongo's titles and working on developing a pitch for the show. I just didn't have time for Roswell and had to set it aside. Then I became Art Director on the TV show and that lasted for four years. Bongo's output grew during this time, so even after Futurama was cancelled, I didn't have time for Roswell.
I did co-create my second series, Heroes Anonymous during that time, but I didn't draw the stories and most of the scripts were done by my partner on the book, Scott M. Gimple (The Walking Dead.) I came up with that idea because I wanted to do a superhero series, and when I told Scott, about it he asked to help me develop it. Scott was my assistant at the time, but a very good writer, and he had the time to write scripts and help develop the characters and storylines with me. I intended to draw it originally but never found time to do more than character designs and cover art. We had trouble finding a regular artist, so there was an inconsistency from issue to issue which I think hurt the book. Sales were never great, and we had to cancel it after six issues. I'd still like to revive Heroes Anonymous , and Roswell too. I think they have a lot of potential and were solid books that just never found their audience.
Since those two early series, I've co-created Lady Robotika and Dead Vengeance. Both were critically acclaimed but didn't sell well. Maybe some day I'll find a publisher who's interested in giving the ideas a new home.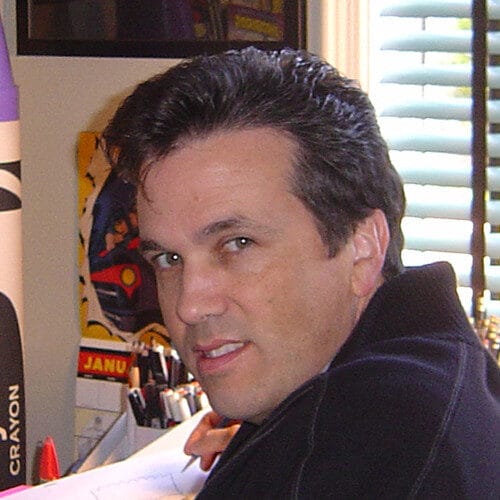 I grew up in a large family in a suburb of Detroit Michigan. There were six kids, including me, so I have four sisters and a brother. My childhood was very happy and I was attracted to comic books and TV cartoons at an early age. My oldest sister started giving me drawing lessons when I was three, so from that time on I was always drawing the things I was interested in, which ranged from Batman and the Frankenstein Monster to Snoopy and Fred Flintstone. I think the first cartoon characters that I saw on TV were Mickey Mouse, Donald Duck, Goofy, etc. They used to show reruns of the Mickey Mouse Club and there was always a classic "MouseCartoon" in every episode. In the comic book arena, I was infected with Batmania from the Adam West TV show, and my dad took me to a local independent bookstore to get comics. The first comic book he bought for me was World's Finest #165, and from that moment I was hooked.Batman was my favorite character then, and still is. As for actors, Jerry Lewis was my role model as a kid. I was always mugging and acting silly, especially if there was a camera trained on me. I also loved watching monster movies on the Saturday afternoon horror movie shows, and Boris Karloff was my favorite. I remember being really sad when I heard that he'd died. Norman Rockwell was probably my favorite illustrator, but I also loved album cover art as a teen. I loved artists like Guy Peelaert, Alan Aldridge, and Charles White III. I was also a big Salvador Dali fan. My favorite comic book artists were Jim Steranko, Bernie Wrightson, and Neil Adams, but those were the names I knew. As I got older and read up more on comics history I started to learn the names of artists I loved growing up like Dan DeCarlo, Dick Sprang, and Bob Oksner.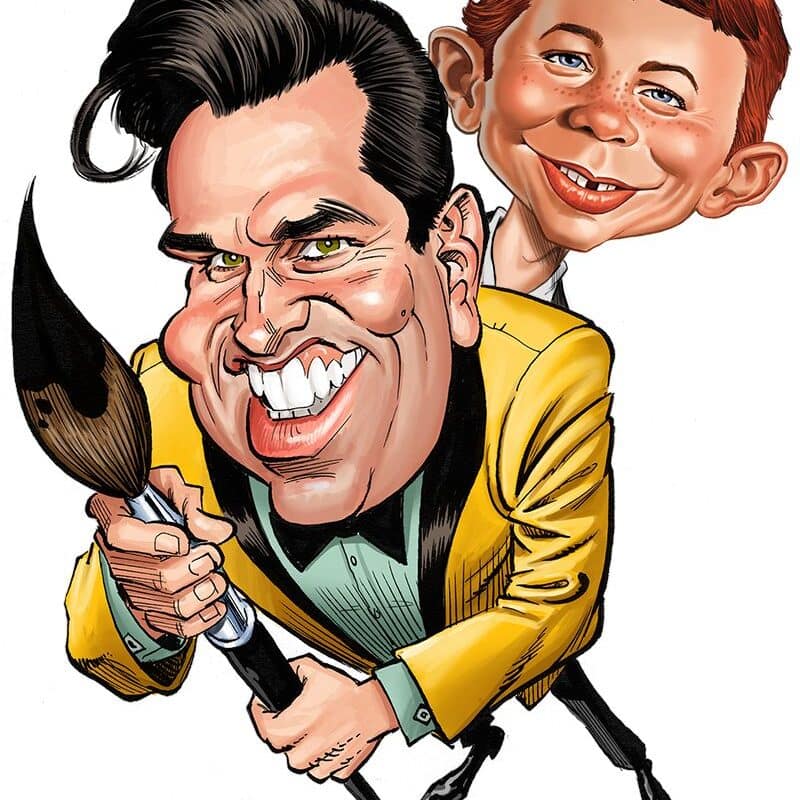 I'm excited about what I see in the shops and only wish I had time to read more of it. For many years the US comics market was dominated by super hero books, but today, even though super heroes still rule, there are great titles in every genre available. I remember in the 90's when I'd travel to Europe to promote Simpsons comics I would always pick up interesting comics that had nothing to do with super heroes, humor, crime, adventure, etc. and it made me jealous that we didn't have that much variety at home. Things have changed quite a bit since then with original non-super hero titles, although I'd still like to see translated versions of more of the great European comics. One that comes to mind that has enjoyed success here is Blacksad by Juan Díaz Canales and Juanjo Guarnido. I think Pin-Up by Yann and Berthet has also done fairly well.
I have several irons in the fire at the moment. I'm writing and drawing a new Roswell strip for Aces Weekly in the UK, and I'm finishing up a Beatles' Yellow Submarine book that will be available next year. I can't talk about that until the publisher makes an announcement, but I will say that it's not a comic. I'm also doing some paintings for the gallery print market. I currently have a Star Wars painting on my easel and will also be doing some Marvel character prints and some images for Elvira, Mistress of the Dark!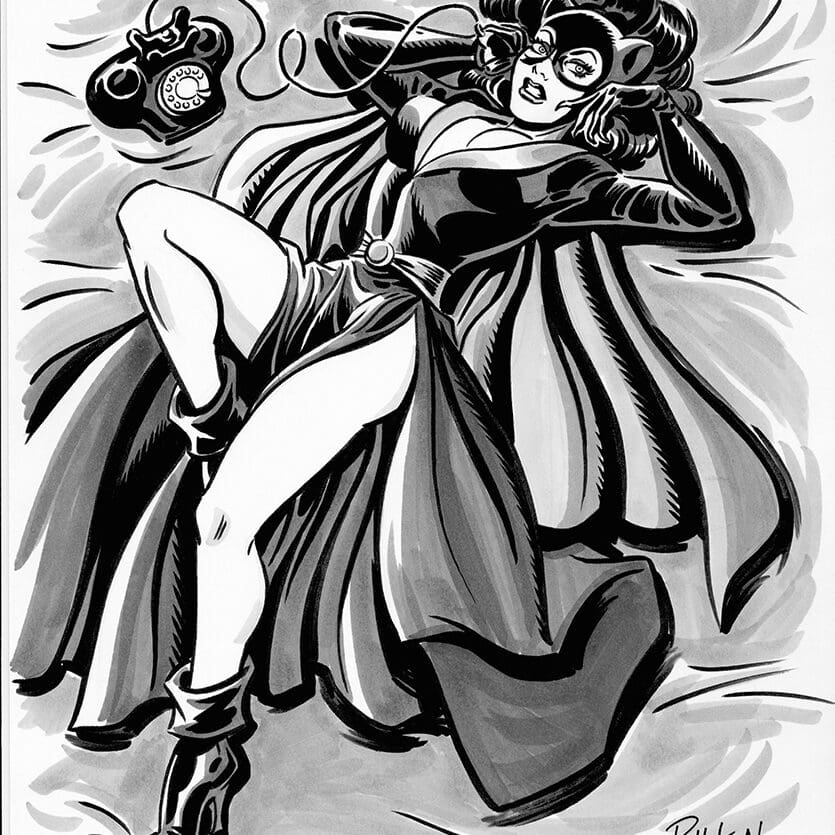 I didn't have classes in school specifically on cartooning, but in high school and later in art school I tried to work cartoon and comic book art into my assignments. I had access to a few books on cartooning and I studied those on my own, but mostly I learned from looking at the work of artists I admired. When I was very young I traced pictures from comics, but I think the Walter Foster book on animation was probably my first exposure to drawing with shapes and building the characters and objects in my drawings out of geometric forms. I learned that cartoons were not really contour line drawings, the lines were necessary to define the forms, but the characters and things first had to be constructed as if they were 3-D objects.
The first comic series I created on my own was Roswell, Little Green Man. When we started Bongo, Matt Groening told Steve Vance and me that we could pitch our own ideas for comics to add to the Bongo line. At that point I'd only been drawing comics for a few years, and specifically Simpsons comics, so I was still getting used to writing and drawing stories with characters based on an established source, but hadn't even thought of creating something of my own. A couple of years passed with no ideas, but Matt's offer stuck with me, and I was always thinking "This is such a great opportunity, I have to come up with something!" In 1996 I was reading a book about the Roswell UFO crash of 1947 in which an eyewitness to events talked about seeing an alien that was alive and moving that was put into the back of a military truck and rushed away. Inspiration finally struck, and I thought "What if an alien did survive the crash and escaped capture? What would his life on Earth be like? Would he meet people who would want to help him get back home?" It just took off from there.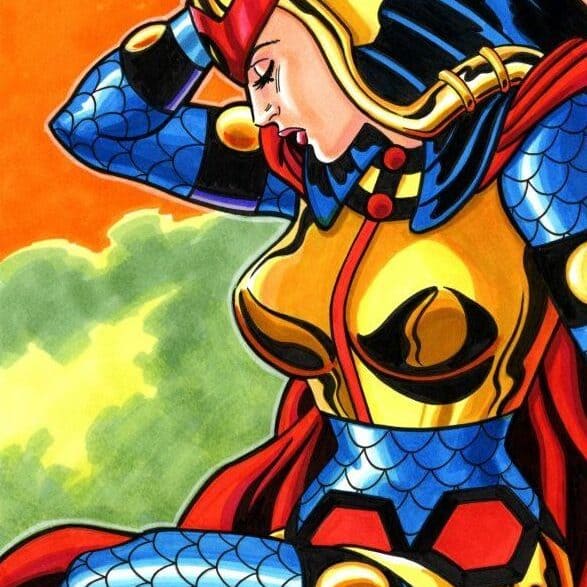 Finally, I can say to the new generation of illustrators: 
Always be open to opportunities that may differ from your ambition. I never thought I'd be a writer, but became one because I was open to it when it was offered. When we were producing Simpsons Illustrated (pre-Bongo) I drew the first Simpsons comic strip in issue #1 and wanted to draw another for issue #2. I contacted Editor Steve Vance and asked if I could get another script, but he told me they were behind schedule and nobody had written anything yet. However, he told me that if I wanted to write something I could also draw it. I had never written anything beyond a school paper at that time, but I said yes. I wanted to draw the comic strip, so I figured out how to write one. Steve and Matt liked what I did, so I was given regular writing assignments from then on. Writing has become one of my favorite things and has opened up so many possibilities for me, but if I'd said "No, I'm not a writer." my career would be very different.