-I grew up in Escobar, a small city 50 km from Buenos Aires, Argentina. My mother was a housewife who used to attend alone concerts and operas at the Colón Theater in Buenos Aires. She did not impose her tastes on us but thanks to her, there was a certain family  interest in arts. My father was a foreman of a rope factory, and when he was not working, he was fixing everything that broke in our house. He had a workshop where he kept the tools of my grandfather who had been a carpenter. In that workshop, we played with my two brothers: we made swords with flattened pipes, cars with wheel bearings, or model airplanes. At the age of eight, I was sent to learn drawing and painting with an artist who came from the capital to open a school in our city. I continued going there until I finished primary school. I finished my high studies in a technical school that was in another city. The double shift and the long trip led me to drop painting classes.
-I suppose that my interest was born seeing illustrated books of animals, especially dinosaurs. We had a student encyclopedia illustrated only with drawings without any photos, and I, as a child, enjoyed seeing pictures of historical events, natural disasters, and dinosaurs, there was a double page with the sizes compared to the man who was my favorite.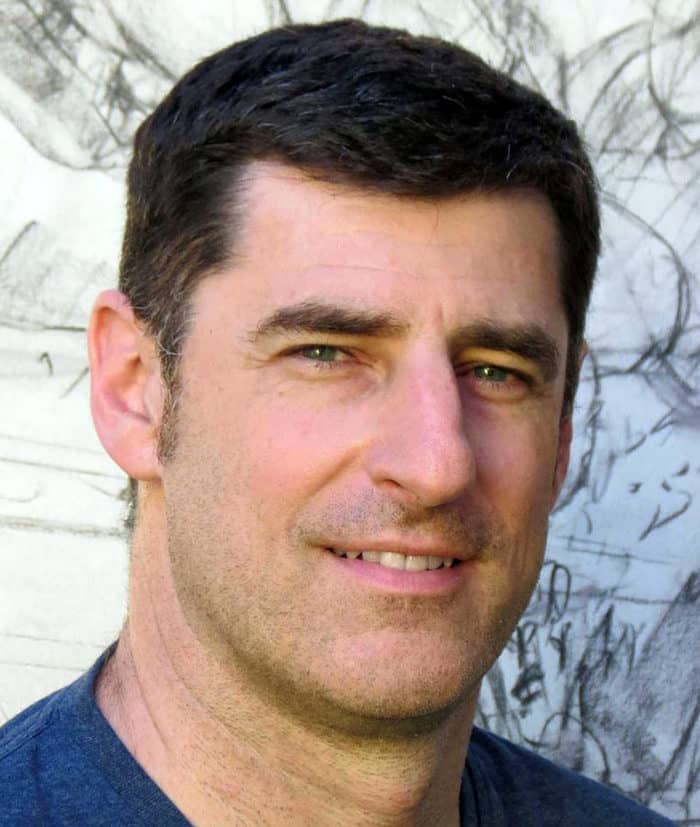 -As a child, I used to love to watch on TV the anime "Astroboy" and "Kimba, The Little White Lion" by Osamu Tezuka. Then in cinema, James Bond films played by Roger Moore like "Live and Let Die" that I especially liked, although I was distressed to think how difficult the life of this agent would be as they continually tried to assassinate. Later came the fascination with "Star Wars" and Light sabers, and "Alien",  a film that surprised and scared me like no other.
-At different times, I had sporadic attractions for various comic characters. For example "Savarese" by Cacho Mandrafina and Robin Wood, Marco Mono by Enrique Breccia, Alack Sinner by Muñoz and Sampayo, Arzack by Moebius, and Cara de Luna by Francois Bouq. But what really influenced me and changed my way of seeing the illustration and the cartoon was the work of Carlos Nine. His handling of watercolor and ink, the expressiveness of his line and the originality of his motives made a deep impression on me.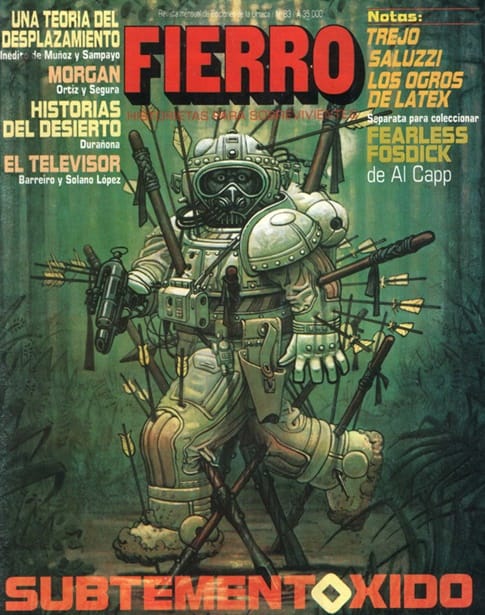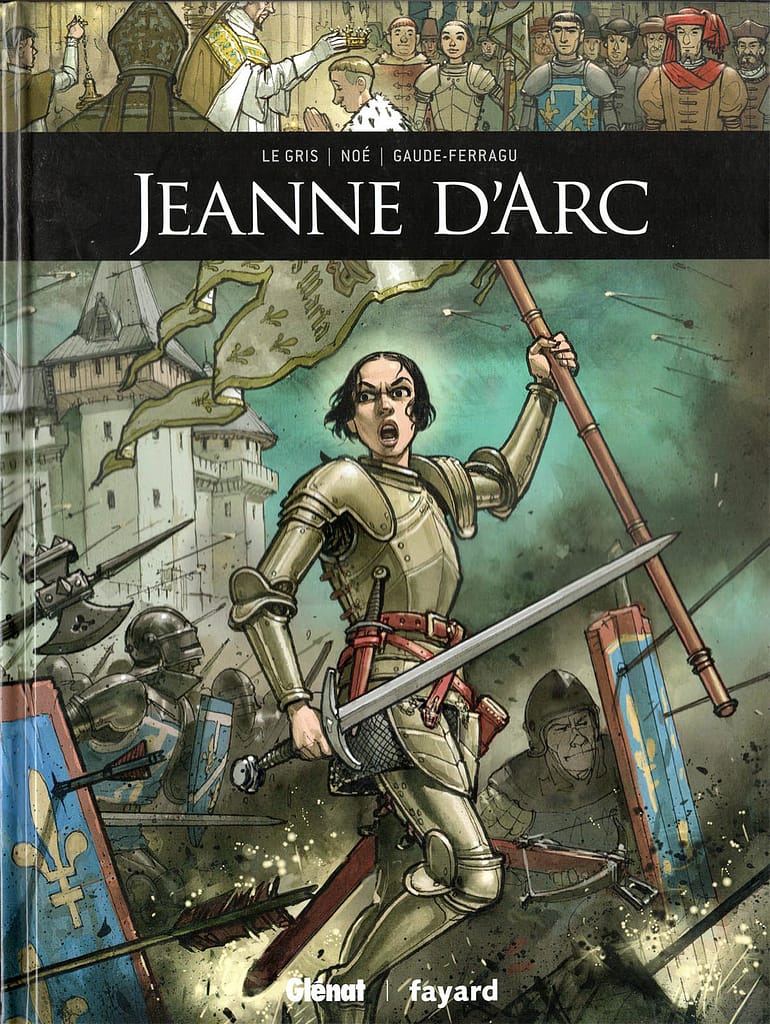 -After I left the paint shop, I continued to paint still life and impressionist-style landscapes with oil on my own. In 1984, the comic magazine "Fierro" appeared in Argentina with works by Moebius, Chichoni, Muñoz, Nine and many others. I discovered there a new way of making comics and illustrations that really interested me and I felt I could do it. The first edition included the bases of a youth contest where the main prize was publication, participate and win a mention. That's how I started publishing and I liked it, I saw the way to develop my artistic vocation within a profession of the one that could live. I decided to dedicate myself to this, so I made my self-taught training much more methodical in order to professionalize myself. My dream was to illustrate the covers of "Fierro", and after several attempts: I did it and ended up doing twelve of them. At the same time that I published the first cover, with the screenwriter Ricardo Barreiro, we managed to sell a comic to the Italian magazine "Lacio Story". These two events transformed me into a professional and defined my vocation.
-My interest in art was carried out in four different lines: comics, illustration, painting and teaching. I recognize that this is not ideal, it is best to focus on one of these activities, but I could not and did not want to do it and I have tried to carry out these four interests in the best possible way. On the one hand, I started making comics for Europe, first for the Italian magazines Lancio Story and Comic Art and then for the Spanish publisher La Cupula. This last editorial published the erotic magazine Kiss Comix, seven comics appeared there, six of them with scripts of mine: "The Infernal Convent" with a script by Barreiro, and then "Diet", "The Ship of Fools", "The Tuner" I and II, "Exhibition" and "Aldana". These works were later published as books in France, Italy, the Netherlands, Germany, the United States, and Poland. From these works, a relationship emerged with the French screenwriter Jean-David Morvan with whom I made a first collaboration in "Les Chroniques de Sillage" Vol. I published by Delcourt and then the three Helldorado books for Casterman. Later, for the Glenat publishing house, I wrote and draw the series "Douce, Tiedé et Parfumeé" from which two volumes come out, and some time later "Jeanne D'Arc" appears with a script by Jêromê Le Gris, for the same publishing house. The last book I drew will appear in bookstores this year, which I look forward to, is an excellent adaptation by J. D. Morvan of Boris Vian's novel "Et On Tuera Tous les Affreux".
-Parallel to the comic always work as an illustrator. First doing the covers of the Fierro magazine, which were later published in LÉternauta of Italy, and later cover illustrations and interiors for the current magazine Noticias de Argentina. At the end of this work, I began to illustrate classics of literature and stories in the children's magazine Genios, where we even made a short story with Carlos Trillo for it. From these children's illustrations a contact with the North American publisher Advance Publishing arose, and so I collaborate with them till now. From my interest in illustration and classic pinup, the "Suddenly" portfolio edited by Les Sculpteurs De Bulles in France was born, where I reworked this theme.
-Whenever the other activities allow me, I try to paint, and when I do, I develop landscapes where I show the countryside arriving at the first houses of the city, which is what you see in Escobar. They are realistic but I organize the motifs in a particular way, which gives the painting a certain metaphysical atmosphere. In 2013, I did a solo show about them.
-Finally, I have a workshop where I have been teaching drawing and painting for many years. Investigating and understanding my activity as an illustrator and art in general has always interested me, everything I learn I try to dump it in the clearest way in the workshop. As a result of these efforts, my book "Illustration and Artistic Image" has been published by Argentine publisher Dicese.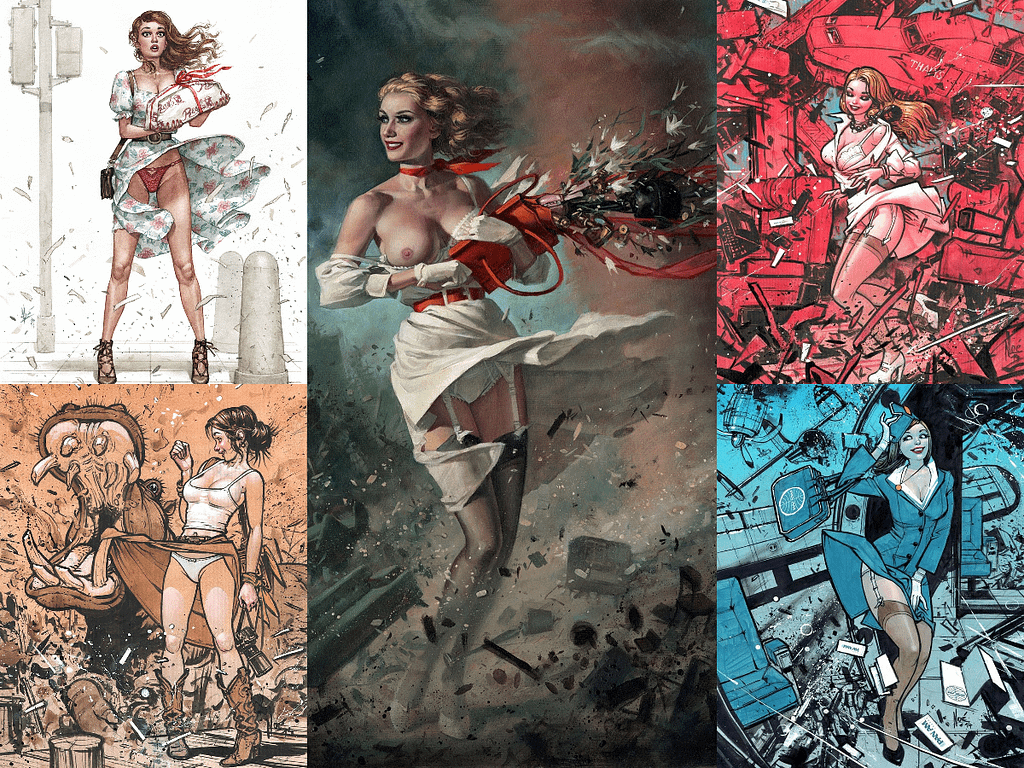 -The Argentine comic industry practically does not exist, almost all the artists I know work for publishers abroad. This does not mean that there is no enthusiasm for comics since the comics' fairs are full and there are more and more of them. In addition, there are many small publishers that publish titles by local artists. What does not exist is a real business that can correctly pay its artists, an industry like the one that disappeared 20 years ago with publishers such as Columba, Record or La Urraca. Columba in its best times and adding all the titles I get to sell a million copies per month. It is true that times have changed, everything is different since the Internet exists, the business has to be reformulated but it has not yet succeeded.
-Many characters from the local comic were famous and accompanied the lives of our people. Some of those that I have enjoyed and that you may know are: Paturuzú by Dante Quinterno, Mafalda de Quino, El loco Chavez de Altuna, Inodoro Pereyra de Fontanarrosa. And in recent years, El Cazador de Lucas and Angela della Morte by Salvador Sanz have received great recognition.
-When I was a boy the children's magazine Billiken published "Spirou and Fantacio" and "Marsupilami" by Franquin. Years later, Moebius' books became common in comics, but I do not think I am wrong if I say that "Asterix" is by far the most sold and known here from the Franco-Belgian market. At the same time, all Marvel and DC superheroes are widely distributed, perhaps Batman is the most requested, and among the youngest manga and anime is ubiquitous.
-About my artistic achievements: I am going to divide the answer into four parts.
-Of the erotic comics I think "Exhibition" is the most successful, and from fiction I understand that in "Et On Tuera Tous les Affreux" the drawing is the best adapted to the good development of history. These days the illustration that I like the most is "Panama", the cover of the portfolio "Suddenly, for the expression, technique and development of a theme of its own. Of my paintings, is the landscape that I share with your website. This painting is part of a series of 10 works that I have finished nowadays.
-My advise for those who are about to start, I always recommend that you finish the drawings, do not leave them half-done or almost finished. Finish them in the best possible way, only then will you be able to recognize their virtues and limits.
-As for next projects: I'm working on a new series of pinup illustrations to complete a book I'm looking for a publisher for, but while that is happening, these illustrations plus other work from different eras I am going to do an exhibition at Galerie Glénat next year. On the other hand, there are two things that I have just started to talk about but I hope will materialize: a project with an Italian screenwriter and the third volume of "Douce, Tiède et Parfumée, DT&P" to end the story.