Hello! My name is Jean-Louis Aguila (a.k.a. JAL). I was born on October 8, 1964, in Marseille. I am French and the son of Spanish immigrants (Catalonia on my father's side and Andalusia, Oran, Algeria on my mother's side). I am now the father of two children. I have been drawing professionally since 1995 and I have collaborated with various newspapers and magazines as a cartoonist for press and/or comics. I am also a poster designer, logo designer and creator, with Frank Berthoux, director of publication of the annual comic magazine PAN! BD & nouvelles!
 – I've always drawn since the day when, in kindergarten, a classmate showed me that you could draw a man with a triangle, a circle and four "sticks". Since then, I haven't stopped drawing. The second click was the day when, in primary school and after an "infinity" of tests, I finally managed to put exactly on paper the image of a captain's hat that I had in my mind for a long time (something I had sworn to succeed). I told myself that the day I get there I will have to become an illustrator. In the meantime, my older brother also introduced me to comics with the newspaper Pilote with characters like Philémon by Fred, Blueberry by Charlier and Giraud, Valérian by Mézières and Christin, and of course Astérix by Goscinny and Uderzo … Then came the comics with Strange ; Pif Gadget with characters like Rahan by Cheret & Lécureux, Doc Justice by Marcelo, Arthur, Les Tristus et les Rigolus by Cézard, Corto by Pratt. Finally, and later the Tintin magazine, then Spirou magazine…

– My role models were countless and come from the so-called "popular" culture (but not only). When I was a child, it was the ORTF serials like "Les Galapias", "Thibault des Croisades", "Les Globes-Trotteur", "Belfegor", "Jacquou le Croquant", "Poli" and "Thierry la Fronde". There were also programs for youth like Nounours, Aglaë & Sidonie, Pepin La Bubble, Polux; later variety TV shows. For the theater before discovering Molière, Racine or Marivaux at the college there was "Au théâtre ce soir". Then there were "the Wednesday Visitors", "The Children's Island", and the start of "Récréa2" for the first Science-Fiction "shocks" of Goldorak (Grendizer), Albator, Cobra (Captain Flam later but on TF1) and the shows on comics like "La Bande à Bédé" … In high school, in addition to Brel, Brassens, Ferré, Quilapayun, the Beatles, or the Stones that I already knew, there was the discovery of Pop/Rock music (Genesis, Bowie, Velvet Undergrond, Sex Pistols, Pink Floyd, Stranglers, Telephone, Cure, Trust, Starshooter, Bronsky Beat, Chalélie Couture… and others I forget about it). But I also listened to French variety or classical music (My father was a classical guitarist and Flamenco) because I have always been eclectic when it comes to musical tastes. There was also literature (French, Spanish, American and South American). Finally, the 1980s were a joy for me with an abundant BD press in France and Europe. I read almost everything, from Métal Hurlant (The magazine, the Choc) to Par Pilote, Charlie Monthly, Fluide Glacial, To be continued for France via El Vibora (another must), Cimoc, Cairo, Madriz, Zona 84 for Spain, to Linus, Eternauta, Corto Maltese for Italy… And others I certainly forget about. Again there are many in addition to those mentioned above. There are all the illustrators of the Clear Line from the 1940s to the 1960s with of course the immense Hergé creator of Tintin, Martin of Lefranc, E.P. Jacobs of Blake and Mortimer … the immense Jijé and Franquin too. Then in the 1980s Swarte, Ever Meulen, Floc'h, Biard, Ted Benoît, Cornillon. Or the generation of Jano, Margerin, Sire … Some Japanese like Tanigushi or Sakaguchi. There is an author whom I detach and whom I particularly admire. He is not an illustrator but a screenwriter: René Goscinny. But if I have to keep on mentioning illustrators, there are two geniuses who fascinate me: Moebius / Giraud (all his work) and Yves Chaland whose death happened at a very young age, and deprived us of his superb work which will remain to my great unfinished despair. I have a fascination for the genius, the irony, the arrogance, the talent, the graphic mastery … of Chaland. I love his quirky "neo-retro" universe with Freddy Lombard, his character.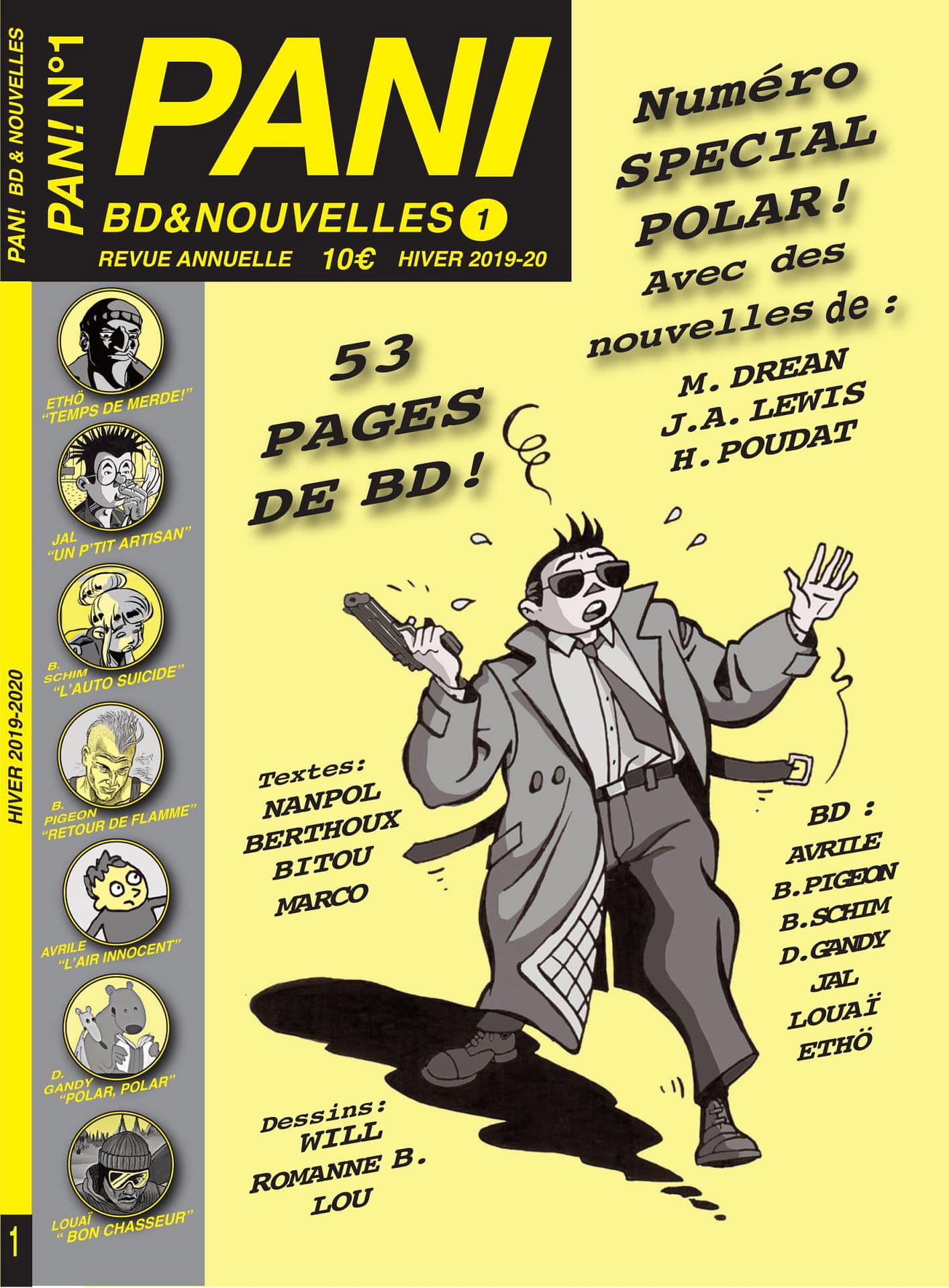 -Unfortunately, about studying, I can't tell you much because I haven't studied illustration but I discovered everything for myself which have saved me a lot of time. Nevertheless, my eldest son is studying to become an illustrator and that makes him progress faster obviously. Even so, once can never finish learning in this profession. I learn every day from elders, contemporaries and young people, and it makes me happy.
-About my works :
To date, I have published several illustrated books and various comics in very different styles ranging from humor to semi-realistic heroic fantasy:
– Five comic books published by Chemins Faisant: "Premières danses" 1 Volume, "Marinades"
1 volume, "Danse avec les petits loups" 1 volume, "Trois mômes et des coupes fins" 1 volume, "Settlement of accounts at the Quai Corail" 1 volume too.
– 3 comics in PVST editions : "Roger, la Total!" 1 volume, "La grande dame et le rat borgne" 1 volume and "Les Interviouveurs" 1 volume. The PAN ! BD & nouvelles N°1 which was published in December 2019.
– 8 BD at Clair de Lune editions: "Osnira" 3 volumes, "Les arbitres" 1 volume, "Ronaldino" 1 volume , "Les Aventures du Professeur Baltimont" 3 volumes, which is my main series. After volume 1 "Le Sarcophage de Mykérino" released in 2015 (reissued in 2019), volume 2 "L'île de l'éternité" released on February 6, 2019, volume 3 is scheduled for 2020.
– I also work a lot on n°2 of our PAN! BD & nouvelles which will be published in winter 2020 in December and for which I am the editor. I also draw comics there (Simun & Runé, Roger, and The "One Shots"). My son making his first step in the series ËTHÖ, which I am very proud of 😉
-Well, I'll be brief about the comics' industry now: It seems to be doing well but it is very very bad for the authors. It is extremely complicated to be able to live on comics alone. It's an extremely time-consuming activity. I myself (like others) had to go back to work (I am a documentary teacher) to be able to get there. And it's very complicated because I have to do two days of work (three when I have my second son :); one during the day and the other in the evening when I get home. Which means that I sleep very little. But hey I do not complain because I manage to lead the two careers at the same time and I manage to do rather well. On the other hand, this crisis of the coronavirus will strongly be detrimental to us, the authors.
-About readers' preferences: that I would like to know! That would make my success easier ;-). Honestl, I don't know and I don't ask myself the question. I created "Baltimont" first for me; to tell the story that people no longer told me, to make me happy because I wanted to draw an adventure comic book with mystery and twists as in the 1940s, 1950s and 1960s. With somewhat fake decorations and twists often telephoned. As I often say, a comic strip with "plywood" decor and "wooden" suspense. For the pleasure of childhood comics, nostalgia too. But this made in the classic style and trying to respect the reader by giving him/her something to escape a bit and have fun; and I think if I get to make the album the player will take it too.
-I do not really have an answer on the question about imported/translated characters except to emphasize that the BD has always been nourished by external contributions. The medium was born in Switzerland, developed in Europe and then in the USA. Comic book became an adult in Europe. I claim to be Franco-Belgian or Belgian-French comics with Hispanic and Mediterranean roots. Not looking elsewhere would be sclerotic.
-About my greatest achievement, it's certainly not up to me to respond, but to the readers. My partner would tell you that it is the "trilogie d'Osnira" that she prefers, but I am not the author of its excellent script – it is the work of the scriptwriter Hervé Poudat. I always hope that my greatest achievement will be my next album :). Finally, I still hope so and it is clear that the result pushes me to start again. It's my slightly perfectionist side:).
-My advise to newcomers: I don't really know, maybe a few things like: believing in yourselves; always knowing how to question yourselves (even if it's exhausting); to always progress and above all being hyper-persevering. The rest may come with work and just drawing.
-Right now: I am finish volume three of Professor Baltimont's adventures and continue to be able to edit PAN. I have many other projects, including a collaboration with an illustrator from Nice, but it is far too early to talk about it.