Raúlo Cáceres
I was raised in a traditional family. We were five siblings of whom my sister was the youngest, and I am the next to last. The interest in comics began at a very young age thanks to my older brother Miguel Ángel Cáceres, with whom I was attached for  ten years. Since he was the one who introduced the comic culture to the family. He bought superhero comics, science fiction, horror, and so the rest of us could enjoy them. At that time, he also began his career as a comic artist and was a role model for me.
What influenced me the most at that time, were the American horror magazines of the 1970s, mainly Creepy, which in turn pick up the tradition that An Entertaining Comic (EC Comics publisher of Tales from the Crypt) imposed with their horror magazines of the 1950s and that in many ways laid the foundations of the current horror cinema. For me, the main creators of this stage were Berni Wrightson and Richard Corben. Other influences were role-playing games, such as Dragons and Dungeons, Extreme Metal such as Cradle of Filth, Mystery Essays such as Calmet's Vampire Treatise, or the Bukakkes from Private Magazine.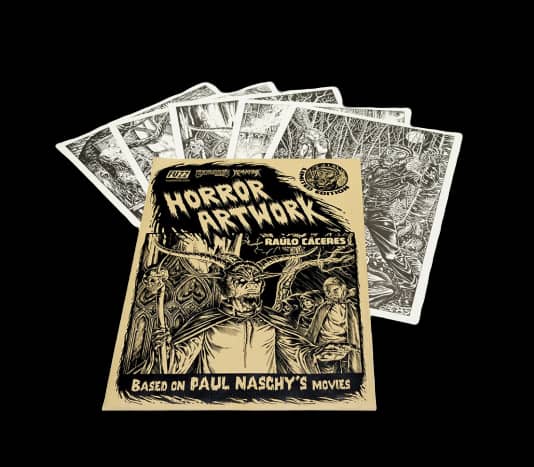 -I was trained reading comics and trying to imitate great cartoonists and even my own brother; I also published my first comics on local fanzines. Then I studied Fine Arts and last year I started working for an erotic comic magazine, and  so I had to combine my studies with monthly income. Since then, I have dedicated myself completely to living professionally from comics and illustration.
-Between 1998 and 2007, I worked for different Spanish publishers, mainly making pornographic comics and illustrations for role-playing games. Of this first stage are the series Elizabeth Bathory, Cuentos Mórbidos, Justine and Juliette and Aguas Calientes, which have had several reissues in Spain, France, the Czech Republic and the USA, with publishers such as Megamultimedia, Dólmen, Berenice, EDT, Tabou Editions, Argo and Eroscomix-Fantagraphics.
-From 2007 to 2018, I worked almost exclusively for the American publisher AVATAR PRESS, with well-known writers such as Max Brooks, Warren Ellis, David Lapham and Garth Ennis, venturing into various genres such as horror, historical, zombie or teslapunk. Some of my works in the USA are Crécy, Crossed: Psychopath, Captain Swing and the electrical pirates of Cindery Island, The extinction parade or Code Pru (series included in Alan Moore's Cinema Purgatorio). As a cover artist, I have collaborated on multiple comic books, highlighting the covers for Alan Moore's Providence Series.
-In Spain a lot of comics are sold, that is, they are translated, but little is produced. On the other hand, when compared to its neighboring France, we are in a bad place, because they are lucky to have an immense population of readers who consume comics at all stages of their lives and in all kinds of genres and styles. The market there is huge. In Spain, what sells the most in the staple of superheroes and manga. Spanish creators have no choice but to publish outside if they want to make a living from this.
-My family. My wife and two daughters are a monument in my life. Speaking of comics, I don't know if it will be the best of my works, but of course Aguas Calientes is my most personal series and in which I was able to take my creativity to extremes impossible in other contexts. The stars don't always line up for a publisher to allow you to make art mixing hardcore pornography, Hurdan folklore, Eleusin mythology, Templar Alchemy and Jungian Psychology. Incidentally, Tabou Editions has just published it in France under the title Les Saintes Eaux. On the other hand, participating in a mythical series such as Croosed, by a comic book giant like Garth Ennis, was quite a privilege; drawing for the bestseller Max Brooks his battle between zombies and Asian vampires, was a joy; and making some Lovecraftian covers for Alan Moore, it was like skimming the saint.
-As my admired Juanjo RYP once told me, this is a long distance race. You have to maintain a constant disciplined rhythm, not stop, and always meet deadlines. You also have to train continuously and drink from various sources. An artist sublimates what is inside, so you have to fill continuously with artistic experiences, and you have to stay healthy: cartoonists spend many hours sitting and that ultimately has a price on health.
-Very recently Panini published Galería de Engendros, a tribute to monster sticker albums, written by Tito Alberto. We are currently preparing the second installment, which threatens to be even more irreverent and surreal. In these years I have also joined the alliance of the labels Exhumed Movies, Miskatonik Videos and Fuzz T-Shirts to launch various projects, such as the vintage reissue of Justine and Juliette de Sade, for which I am drawing new chapters. They have also published two installments of my Horror Artwork, portfolios tribute to horror film myths Paul Naschy and Jess Franco. The last publication with them has been the Insania Tenebris illustrated notebook, which contains texts by the group of writers Los Bastardos by Abdul Alhazdred, inspired by the work of H. P. Lovecraft. I am also involved with a fantasy sailor comic written by Házael González, creator of the Saga Historias de la Tierra Incontable, which will be published by Dolmen in the future.
https://raulocaceres.es/