I am a fantasy writer- I write comics and prose. I am Greek, but lived most of my life in Belgium.
From 2006 to 2009, I was a co-editor in French SF magazine GALAXIES. I interviewed many writers and wrote various articles about the situation/condition of SF in different countries.
My short stories (in prose) were published in various magazines and anthologies in English, French, German, Spanish and Greek.
I also need to add that I have always loved manga (Japanese or Korean). To work with manga artists and write in manga-style has been my dream. One of my comics ("Blue Sparkles" published by MARKOSIA in 2016, illustrated by French artist VURORE) is in a manga-style. I wrote, edited and co-wrote various comic scripts from 2010 to 2016: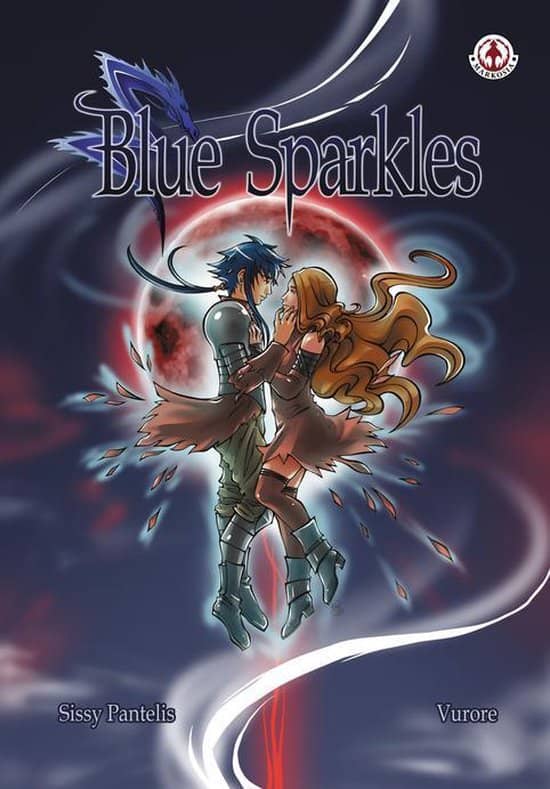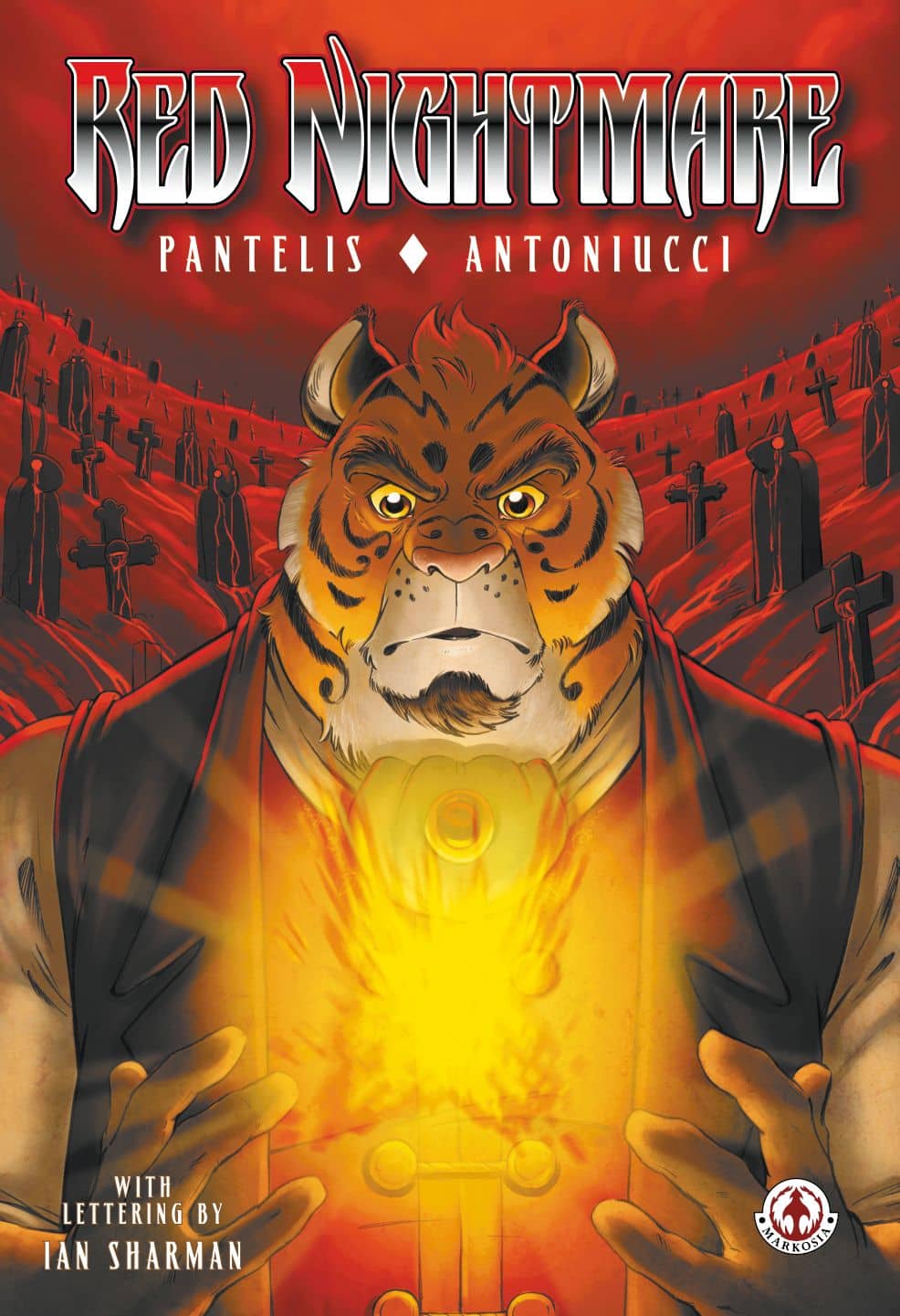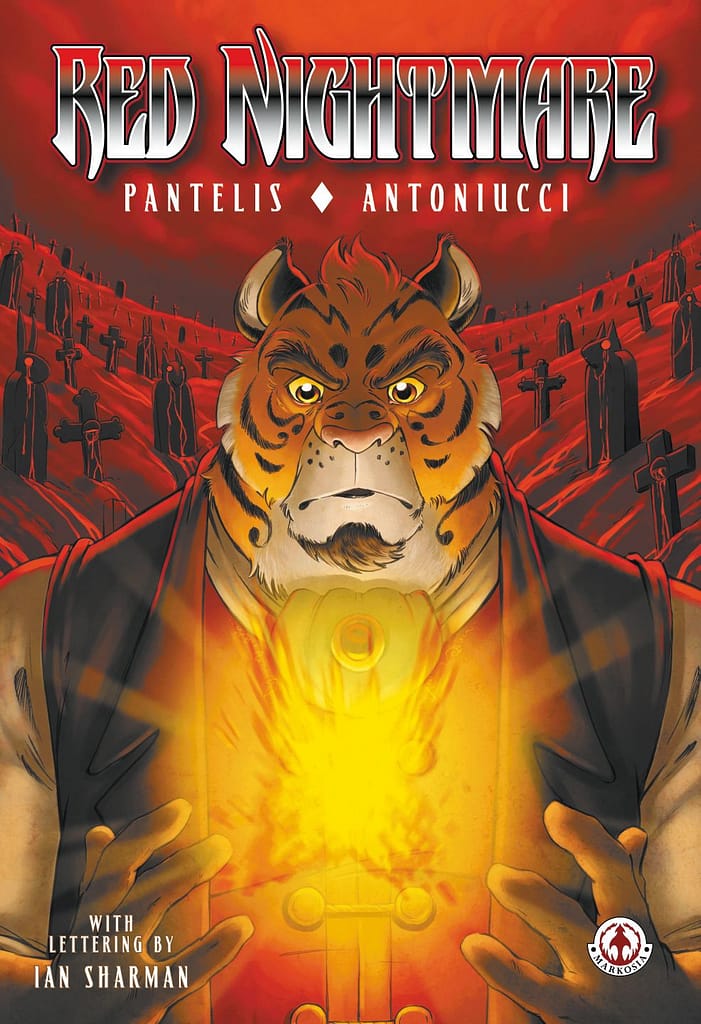 My father was a professional journalist. This partially explains why I love writing so much too. Both my parents loved reading. Ever since I was a child, I was a passionate reader. I would read lots of books and my parents encouraged me to read whatever I liked. I never heard "this book is not for your age". My parents would often discuss the books I read with me. When I was a teen, my mom and I went every week to bookshops and libraries to get new books. All this helped develop my imagination—and improve my writing.  
I used to watch old movies with my father. The women in those movies were gorgeous and so glamorous – they made me dream… Rita Hayworth was my idol. She was the most beautiful woman I ever saw! The main character, in one of the first stories I wrote, looked exactly like Rita Hayworth.
When I discovered superheroes, Wonder Woman was one of my idols. Later, I became fond of Poison Ivy and Harley Quinn. 
There are many comic illustrators I love. Milo Manara, Craig Russell, Bill Sienkiewicz, Moebius, André Franquin,… I love Spanish illustrator Enrique Corominas. Juanjo Guarnido( who illustrates BLACKSAD). Italian comic illustrators are brilliant! Danilo Antoniucci with whom I had the honor to collaborate. Pasquale Qualano and Mirka Andolfo—both of them extraordinary! There are so many of them that the list would be too long.
Regarding comic writers, I admire Alan Moore. I believe that he is a genius and one of the greatest writers of our time. Bill Willingham is a brilliant writer. But THE SANDMAN by Neil Gaiman had the greatest impact on me. Maybe because I love mythology and dreams as much as Neil Gaiman does.
I have always loved comics. The first comics I read were in Greek Girls' Magazines. The main characters were teen girls that had an exceptional gift for math or dance or some sport. This ability was similar to the superpowers of famous comic heroes. The main difference was that the young girls didn't save the world or deliver justice. They were struggling to be accepted in their environment. I was crazy about those stories.

When we moved to Belgium (I was at primary school), I discovered a whole series of comics by Belgian and French creators. My family enjoyed reading those comics too, so there was soon a whole library of comics at home. 
Later, I discovered the wonderful stories by Frank Miller, Bill Willingham, Alan Moore … And also "The Sandman" series by Neil Gaiman. Despite loving comics so much, I never thought of writing a comic script. I thought it was far beyond my capacities. 
In 2009, I met Greek comic artist Valia Kapadai. I loved her art; so we met, and she asked me if I wanted to do a comic with her. I would never have started if it was not for Valia's encouragement and… for Neil Gaiman's scripts available in some of "The Sandman's" issues. Those scripts helped me a lot in starting (reluctantly) writing mine.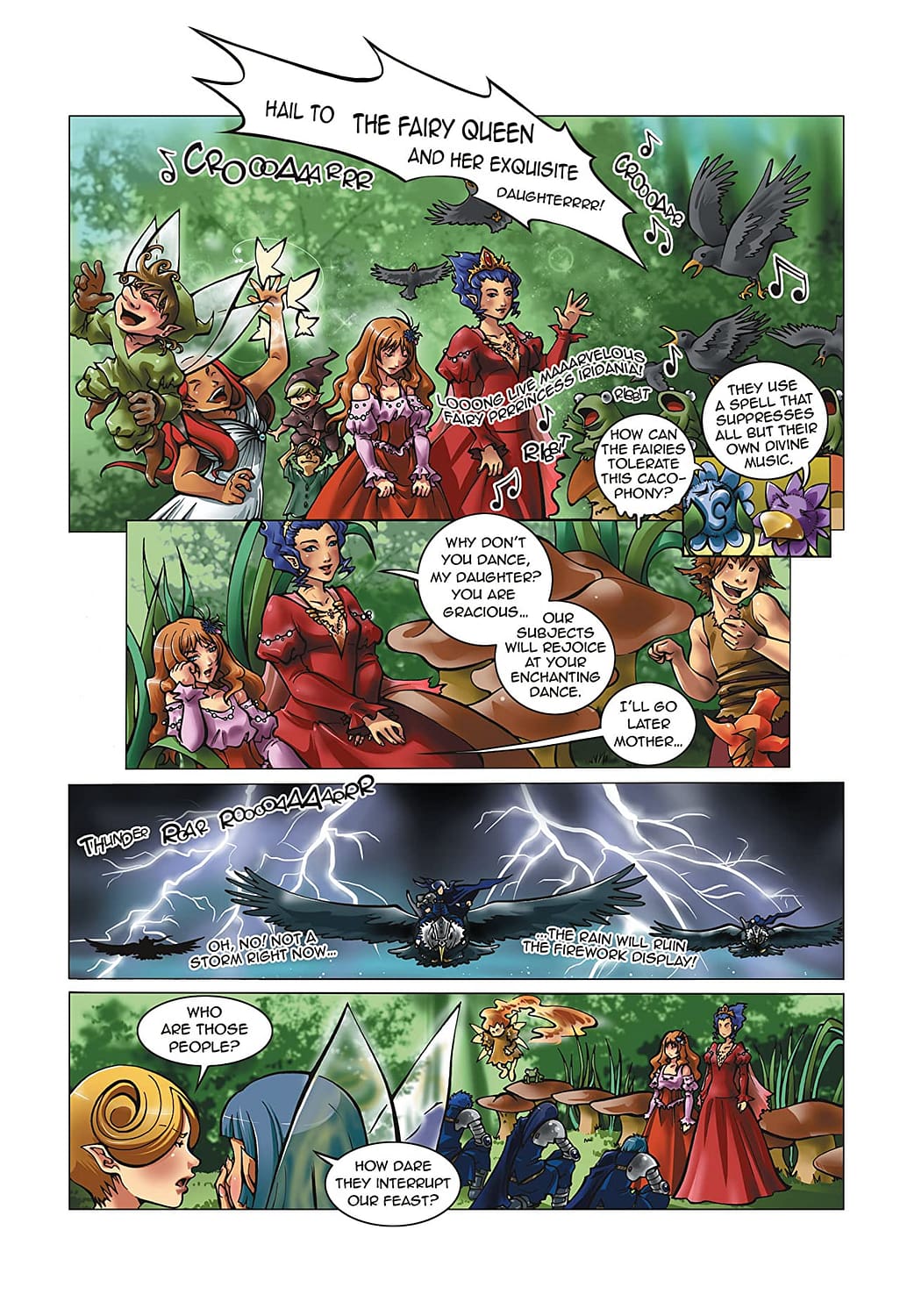 I did not follow any special education to write comics. Apart from the abovementioned scripts by Neil Gaiman and other experienced comic writers that I read in the beginning, most of my learning came with writing and editing comics. 
When first commissioned to write comics for a website, I worked with a brilliant editor: Nathaniel Bowden, who wrote the STAR TREK and RIDING SHOTGUN comic series (TOKYOPOP). His suggestions were excellent, and I learned a lot from him. 
Also, when I started writing my own comics, Mike Carey (writer of The LUCIFER series- VERTIGO;  X-Men: Legacy and Ultimate Fantastic Four for Marvel Comics,…) kindly helped me by offering a few suggestions for the first version of the script of my graphic novel, BLUE SPARKLES. Getting advice from experienced writers is a wonderful opportunity to improve your style. This said, the process of improvement is ongoing and unceasing, and you have to do it on your own.
Because of the financial crisis in Greece, comics suffer as much as other sectors. Greek publishers JEMMA PRESS do their best to publish Greek creators and also a few translated comics. 
Even so, there is an important audience for comics in Greece, especially young people. They read comics in their original versions and are extremely well informed about comics. COMICDOM—the comic festival organized every year in Athens, has tremendous success. They invite many important comic creators from everywhere in the world.
In the last years, manga have been as successful in Greece as everywhere else and cosplay competitions of high level take place in the comic conventions. So successful are comics that a second festival called Athens Con has taken place in the last years. Comicdom is in April;Athens Con in December. 
There are a few excellent comic artists in Greece. Ilias Kyriazis, Vasilis Lolos, Michael Dialynas have worked for great companies and have an international reputation. Some Greek comic illustrators keep drawing and promoting their own original work in every way they can. Yannis Rubulias is such an artist, with great talent and a wonderful sense of humor. Also, Kostas Fragiadakis who created the MYTHOS series. There are many other excellent Greek comic artists. There is not enough room to mention all of them, but they all share a passion for the medium, unaffected by difficulties. Those artists who are successful always encourage and help other artists as much as they can.
As I lived in Belgium and have followed French and Belgian comics closely, a word about those comics too. French comics (bandes dessinées) have special importance internationally and are illustrated by the most extraordinary artists. That has been a kind of double-edged sword for some time: with such dazzling art, sometimes, the script was undermined.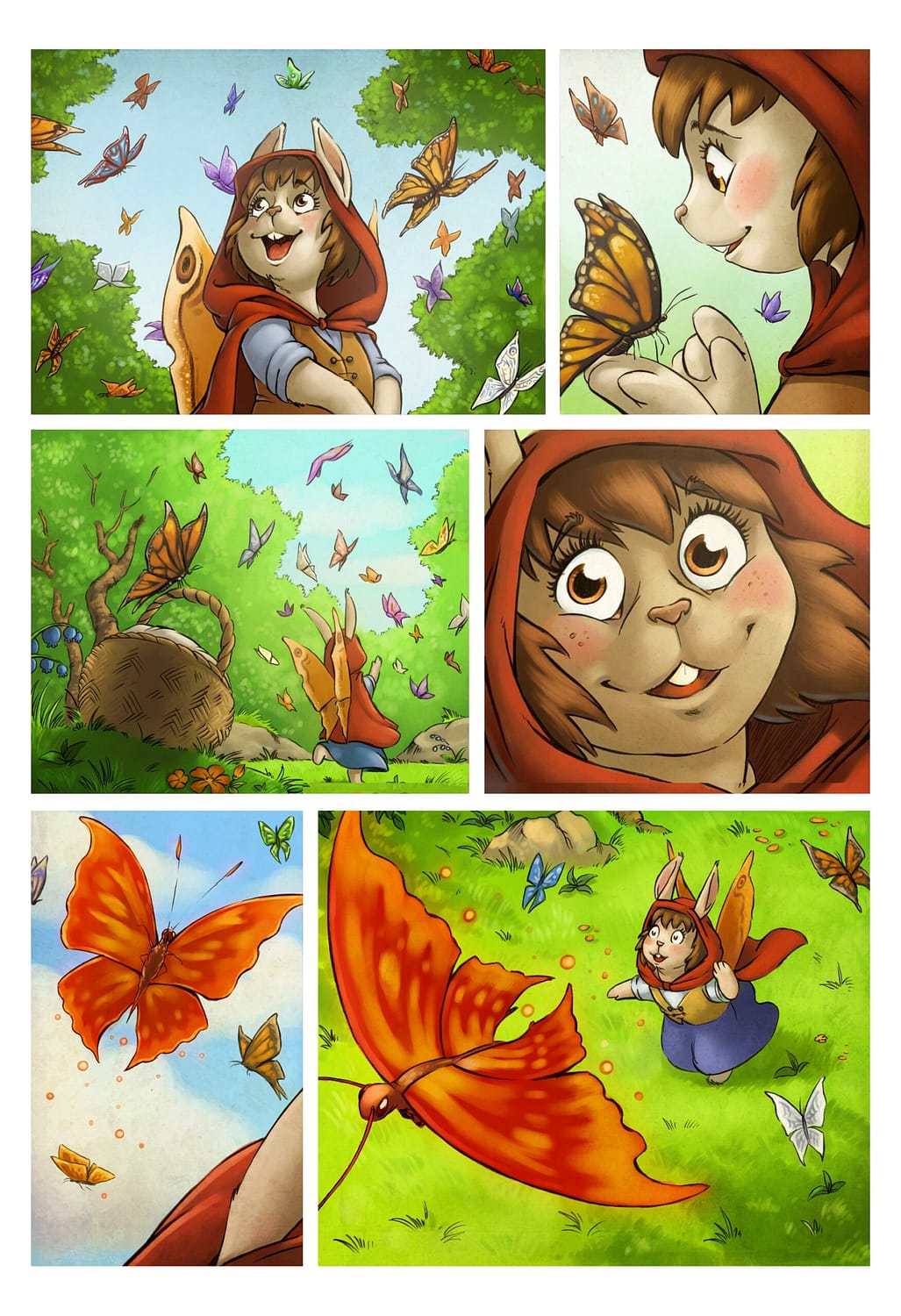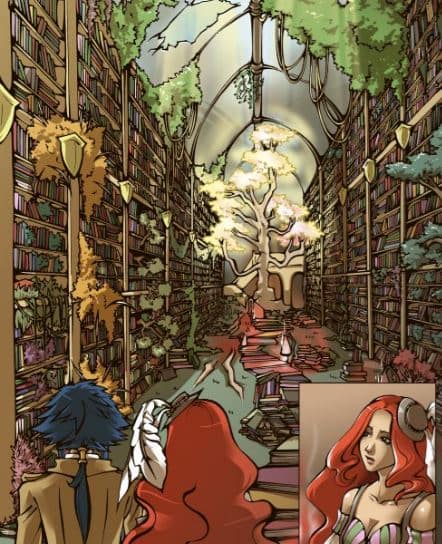 In the last few years, French comics underwent major changes. The quality of art remains exceptional. Many French and Belgian artists love manga, so they created a mixed style between manga and the traditional style of French bandes dessinées. French comic publishers SOLEIL have produced a few amazing comics in this style. 
Also, scripts in French comics are growing better with time. The international success of BLACKSAD (pub. DARGAUD) is proof of this tremendous improvement. In recent years, a great number of comics in the French style are published under the label "European Comics". Translated in English, those comics are created by creators from various European countries and are easily available to a large audience.
Diversity in stories is crucial in comics. It is one of the main reasons for explaining the huge success of Japanese comics (manga). In creating stories in various genres, the European comics took a good step in competing with manga. The same should happen in the Anglophone comics. Stereotypes of any kind are a nuisance to comics.
In Neil Gaiman's SANDMAN, Dream King Morpheus learns that one must change or die. Comic creators never feared change. Therefore, the medium has survived so long.
I think comics affects our realities! Not just that of the readers but the reality of comic creators is also affected while creating scripts and art: they become attached to the characters, and the story is "real" to them.
A comic can affect the reality of the readers in different ways. Some readers relax and escape into imaginary worlds. For a while, they forget the stress and sorrows connected to real life. Others think of the story long after they have finished reading the book. The best situation is when they love a story so much that they want to bring it to life.
Apparently, many people would love to live in comic worlds. This explains the success of cosplay; the original ideas of cosplayers and the excellent costumes they create.
For comic creators, it is a great pleasure to see an audience eager to bring the comic they created into reality. To see people bringing characters or elements of the stories I had created to life was one of the most beautiful moments for me.
The first time it happened with an issue of the EURI comics I co-wrote with South American comic writer, and creator of the series, Hernando DIAZ. I had created a nightclub called SPADES CLUB. All workers in the club (waiters, performers, –) were supernatural people (magical creatures or spirits), who had committed some crime, and were sentenced to work in this club, shaped as card-people (like the card-characters of Alice in Wonderland).
When the issue I wrote came out, the fans of the EURI series created SPADES CLUB for the presentation of the comic at a convention in South America. Dressed as cards, the cosplayer-waiters served weird cocktails with creepy names. Unfortunately, I could not attend the convention–it was too far. But I was delighted when I saw the photos Hernando sent me.
A few years later, at a comic convention in London, a young woman-cosplayer was dressed as Tiger King Iskander – the main character of RED NIGHTMARE—the comic I created in collaboration with Danilo Antoniucci. That was amazing! I and Danilo Antoniucci were extremely moved and happy.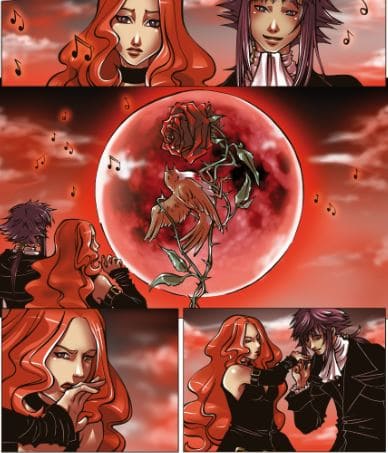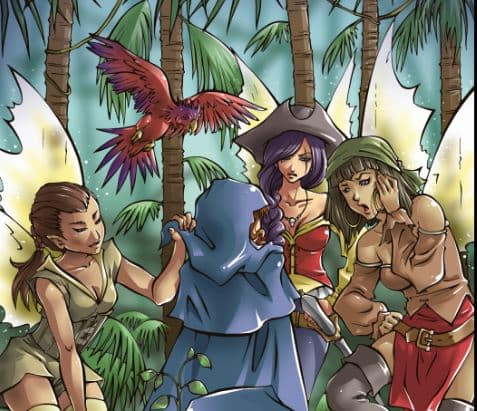 Each new comic I have created was a new challenge with specific difficulties attached to it. I love creative challenges. So, I always tried to work in different style comics.
For instance, RED NIGHTMARE is a fairy tale featuring anthropomorphic animals. BLUE SPARKLES is a story of a cursed love, mainly inspired by Shakespeare's Midsummer Night's Dream. The two comics are different in style, regarding story and art.
BLUE SPARKLES was a very difficult comic. The first artist who was working on the comic, left. It took a long while before I found another artist. The comic was special and required a skillful illustrator, who would love the story. I am very lucky that the publisher (Harry Markos) supported the comic… and that a gifted artist such as VURORE has been willing to work on it. I am also grateful for her superb work on the comic. The project was extremely demanding!
Each chapter is set in a different location and requires a different style of art. For the narratives or the dream-journal of the fairy queen, we used a different style. I had to do long research to send VURORE references for the places and creatures she had to draw. I shortened the story to half the number of pages as the first version of the comic was too long. That the comic was shorter does not mean it was easier. Sometimes, I almost felt guilty for all the incredible things I asked VURORE to draw. But she is a wonderful artist. I was always in awe when she sent me the pages she had drawn. I believe that BLUE SPARKLES was a great challenge, but I hope that my greatest achievement is yet to come…
Every new creation is another challenge.
For the moment, I am working on a fantasy novel (in prose). I completed it at the beginning of the summer, but it needs edits. I decided that I would not work on other projects to better focus on the novel. So, no comics and not even short stories during this period (except for a short story I wrote in the summer, for an anthology that will come out next year).
I have ideas for two comic series. Artists are willing to collaborate and publishers are interested in both series. I also hope that we will do something new in collaboration with Danilo Antoniucci. But this will be in the future. First, I have to edit the novel.
For the new generations, I say:
If they are certain that they love working on comics, if they have the passion it takes, I would encourage them to continue whatever the difficulties they encounter. I would tell them: "Believe in yourself and never give up."
List of Works by Sissy Pantelis
Commissioned work:
Various comic scripts for website owned by Susan Soares: Snake Goddess (short graphic story- 2010). Full Moon (short graphic story-2010). Columbia Underbelly & Locked Out – characters and script by Andrew Zar, edits Sissy PANTELIS (2011). GOD PLAY, issue 1-3, script by Sissy Pantelis, art by Randy Kintz & Christa Rosenkranz 2011).
Her own comics:
«Hell Oscillations», script by me, art by Dario Balletta, comic anthology FTL : https://comicvine.gamespot.com/faster-than-light-6-the-man-in-room-four-hell-osci/4000-376982/ (2011). Translated into Spanish «Oscilaciones infernales», in magazine miNatura,, issue #117
That was a dark fantasy short graphic story about a man trapped in his own nightmares.
«Nightmare»: script by me, art by Cindy Bertet (aka Didizuka), published in Inspired Viewpoints issue #6 6, p. 40-52 (2012): https://issuu.com/inspiredviewpoints/docs/inspiredviewpoints_magazine_issue_6_20121012051210
The story is about a charming cow-girl (a young girl with horns, a tail and a special charm!) called Beef. The character was created by Cindy Bertet (Didizuka) as a mascot for the fanzine she published. I loved Beef and decided to write a story featuring her as a mean character. In this story, Beef puts an end to the nightmares that torment one of her classmates. We did one more story with Cindy and hope to do a series in the future.
«Euri Revelation», special issue, co-written Hernardo Diaz – Sissy Pantelis , Art by Alejandro Salas (2012).
«Euri Hagalaz», special issue, Hernardo Diaz – Sissy Pantelis, – Art art by Wilton Palacio, Alejandro Salas (2013) (This was the issue with SPADES CLUB. The story was mainly inspired by Scandinavian mythology). https://comicvine.gamespot.com/forums/gen-discussion-1/euri-hagalaz-1466544/
BLUE SPARKLES: Graphic novel, 96 pages. Script by me, Art by VURORE, publisher MARKOSIA (2016): A story of a cursed love. Inspired by Midsummer Night's Dream. https://markosia.com/books/worlds-of-wonder/blue-sparkles/
RED NIGHTMARE: Graphic novel, 54 pages, Script by me, Art by Danilo Antoniucci, publisher MARKOSIA (2016): A story of an evil king that decides to change after a vision resulting from a magic potion given to him by a sorceress. https://markosia.com/books/worlds-of-wonder/red-nightmare/
.