Hello!
Well, my background and early childhood was set in peacefull home, and family atmosphere, probably that was first important thing to start…early seventies (I was born in Niš, Serbia)… I've been told that very early I got attached to visual and interesting cartoon images on tv, and later watching animation, or when my parents bought me some comics magazine.I remember first character that was interesting to me was with name Calimero, small poussin, and also Felix the Cat.There was some Disney's cartoons, as influence perhaps. My first "serious"drawings was made little before and at primary school and later. I found Inspiration in some Hanna-Barbera's cartoons, as well. Later during first grades in primary school I've started to read comics a lot, from various types and genres. It was humouruos or more realistic comics,(Tarzan, Rip Kirby, as classics, or superheroes-Spiderman) but most impresive to me was that french-belgium type of comics(Asterix, Lucky Luke, Gaston, Spirou, Blueberry, and many others). There was plenty editions for kids or older, mixture of genres, styles and influences.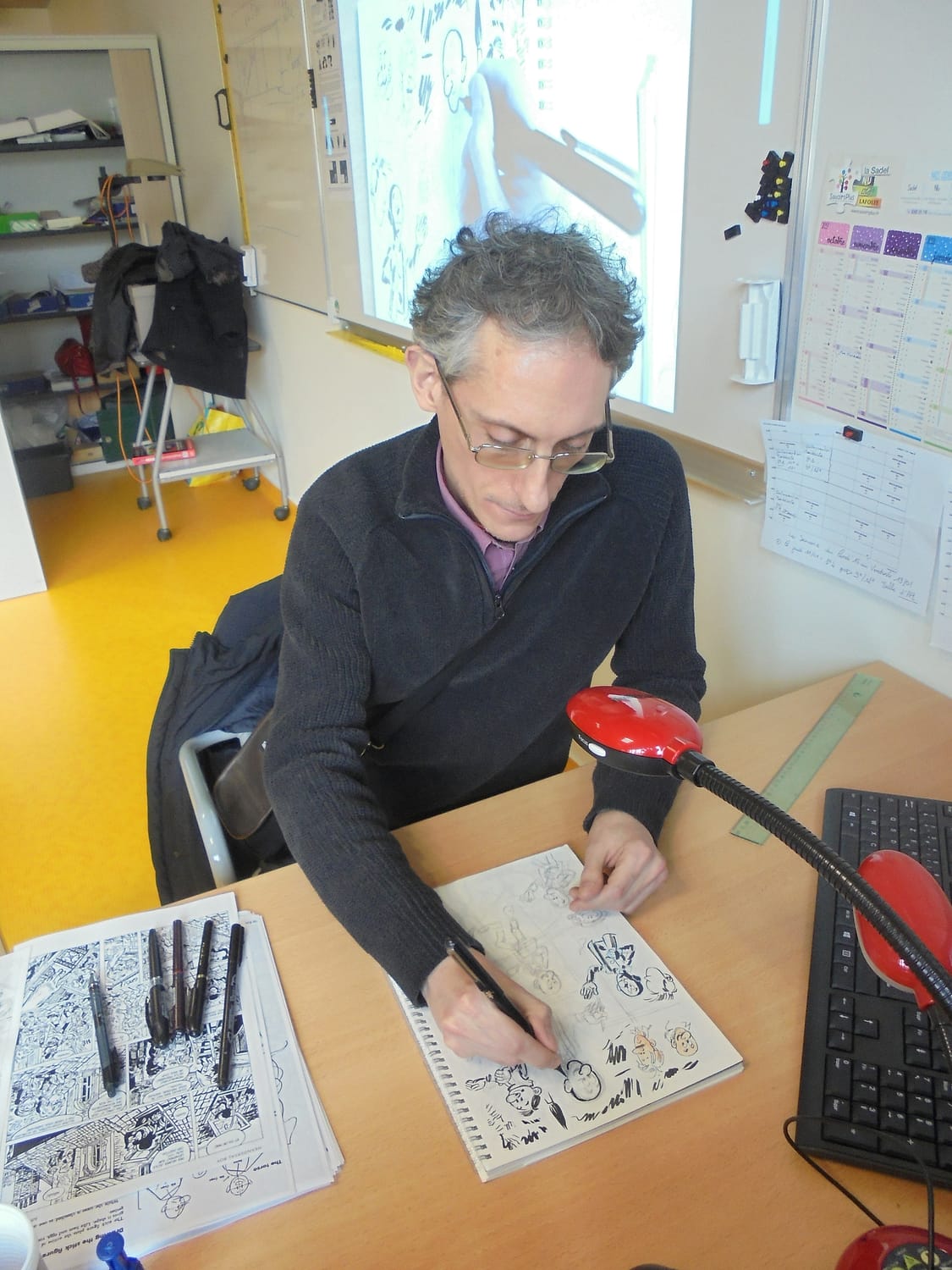 It is interesting or maybe more difficult to get that far, to point out someone special…But as I've mentioned it is interesting that at that time more influence came from various cartoons from Hana-Barbera, or Disney. Series like The Flinstons, Tom and Jerry, Yogi bear, and others. They were very popular to my or other generation from the early eighties.Later came Star Wars, or Back to the future movies, Superman, Indiana Jones. Also there were plenty of interesting series only for children, also yugoslav production at that time high quality series, let's mention"Smogovci" or film and series about partisans "Povratak otpisanih" (*Return of the written off"), etc. One time my favourite character was Spiderman.
Improtant period for comics creation had started in early 90ties, with collaboration with Pressing magazine for students, where editor gave me chance to create illustrations and short comics. Later that work conected me with the authors from Belgrade, Vladimir Vesović, Milan Jovanović. Branimir Trošić, Miroljub Milutinović Brada, Đorđe Milosavljević, and Branimir Trošić. Those two guys Đorđe and Branimir was writers for some important series at that time Krakov, Krakov(1993-1996) And our collaboration brought four episodes of that adventurous/crime series with humoristic elements.
That type of genres I prefer. I have to mention that work with Đorđe Milosavljević brought to light other comics titled Max Debris-Confession of the real forger. This comics was later finished with the story written by Marko Stojanović. But I have to say that Max Debris is significant for more reasons.
It was published several times and finally as comics book, 2001 Max Debris, in magazine Bumerang 2 and 3, and as album (black and white version) in the same year. And after that in 2006 – Max Debris Politikin Zabavnik, number 2837-2840, (version in color)*. Recently three years ago (2017) it was finally published in french, which was genuine idea, Yil editions, 2017 New edition for MAX DEBRIS -Confession of the real forger. There was also other important collaboration with Zoran Stoiljković with whom as friend I develope my interest in reading comics and drawing in 90ties, and the result was one number of "9" magazine, and mutual work on workshops in Open club society in Niš, during 1998, and later 2000/2001-2002. The important result of this educational work was small collective album, written by Velibor Petković, 1998 UNHCR humanitarian project in the Open Club Niš: "Freedom and other hallucinations".
Important collaboration happened in 2009, when I got in contact with Michel Dufranne who introduced me to Thierry Coppeé, very good man and fine artist of famous belgian comics Toto. I was kind of assistant to Thierry, to help him among many engagements. Also, I've done some preparing work for projects with screenwriter Michel Dufranne, but I couldn't achieve more in that time.
Interesting project was on short story Duke and disorderly-The fift Duke of Portland with Andrew Graves as writer, from Nottingham. This story is part of larger project with differnet artists and writers -Dawn of the unread. It was finished in 2014, and with some modifications published in a book in 2015. Since ten or more years ago, I had also chance to meet and collaborate with some of my artist from childhood, Igor Kordej, at first Herceg Novi Comics Festival(2007) thanks to Nikola Ćurčin who organized that today legendary festival/comic convention in Montenegro.
Great friendship and collaboration with Dragan Lazarević –De Lazare who translated Max Debris for french edition, and gave me a script for(unfortunatelly unfinished) project:Belgrade, spring 2012. There are some unfinished ideas and pages done with Zoran Penevski. With Vladimir Marković I 've finished 8 pages story about pirates-Kiki Roth(hommage to an older serbian comics character drawn by Nikola Mitrović-Kokan). (2011.)
In between (from 2014 ) I've started to work on illustration for children, different educational books, with publishers Klett, Bigz Školstvo and Pčelica (note that I was employed in different type of company during previous period, need to mention that my primary work wasn't only comics).
If we talk about comic industry, which should include publishing of own, comics created in Serbia, there was few attempts for mainstream comics, and on the other hand alternative/underground comics. After hard times in Serbia, and other former yugoslav countries, during 90ties there was few edition, one of great importance for young and older authors, it was Tron, and later Megatron, small treasure in comics at that time, and Strip Mania, magazine, in which many artists and I had a chance to publish first comics.
Starting with year 2000 in Niš was started publishing of Strip Pressing magazine, which count 19 numbers so far, and there was magazine Bumerang, from 2001, which achieve 3 numbers. Some strong publisher for this time didn't appear, I could mention "Vojvođanski strip" magazine for authors in Vojvodina, in 2015. At least there is no publisher for comics, created in Serbia, from serbian authors. Also there is interesting magazine Stripolis (publisher Culture centre in Zrenjanin), which is international and based on author's comics. Editor Branko Đukić is open for collaboration with quality authors from all over the world. There are twelve numbers so far. Maybe I forgot something about publishing houses, but mostly great number of serbian authors are oriented to work in Europe or USA.
On the other hand comics books publishers who presents worldwide succesful comics in 20 years had experienced their rennaisance. Because there are several publisher concerned reprints of classic and contemporary comics from Europe (meaning France) or USA. There is huge number of comics books, albums, graphic novels, reeditions etc.
The best examples are publishers like Darkwood, Makondo, Phoenix Press, System comics or Čarobna knjiga.
What could be readers preferences? For older/ younger readers there are also editions of italian (Bonelli) comics, (Zagor, Blek le roc, Dylan Dog,Dampyr) "Veseli četvrtak" publish this series…New generation public is attached to manga comics, for example.
I can say that influence from hollywood films about Marvel heroes etc has impact on younger comics readers. Also some other publisher want to present more free approach to comics medium, graphic novels and also to serbian authors who work in that way (for example "Besna kobila").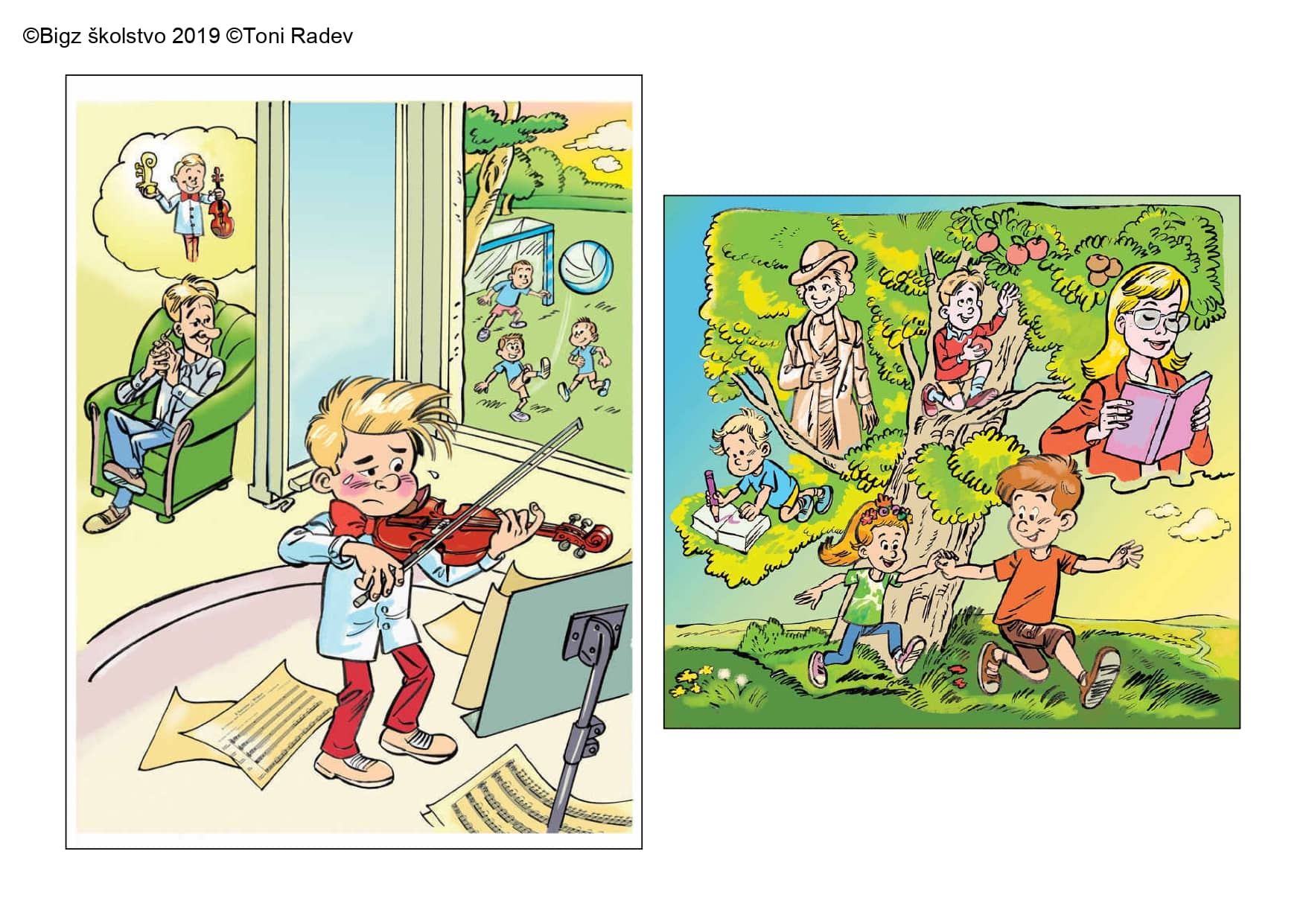 That is interesting question about comics affecting us…Since first experience in comics as reader, and I believe that should be case nowdays, the first thing about comics is to entertain. Than nowdays I know there are also comics/author's who want to be socialy aware or engaged somehow. So their work could reflect current situation in our society or in the world. I saw mostly that type of work in France, but of course they can be present in USA, or elsewhere in Europe. Which is not at the moment in my focus of interest, I have to admit.
But as answer to your question each good art should somehow affects our reallity, and comics books as well.
Regarding my greatest achievements: I've mentioned my work with Thierry Coppée, as assistant on first book "Qui cherche trouve Toto"(Who look can find Toto)published for Albin Michel en 2010. And after that work with Andrew Graves, and publish Max Debris-confession of the real forger as album in France(2017). That also gave me opportunity to visit France in january 2017 with other serbian artist we were guests at Saint Remy comics festival,(with good known authors such as Vladimir Krstić Laci, Dragan Lazarević, Pahek, Zoran Tucić, Zoran Stefanović, Tamara Krstić. That was precious experience, we were having great time during three days with our host Laurent Quatre, and famous french and belgium artists. Visiting famous festival in Angoulême, in 2010 meeting Delphine Rieu, colorist and writer, many authors I admire, such as great Jean Giraud Moebius, or just saw them around, like Yoann Chivard and Fabien Vehlmann (Spirou&Fantasio), Mézieres, or Trondheim, and Later chance to come to Angoulême in 2017/2018 was very impressive experience as personal and as artist. It was fantastic!
Quite interesting and memorable experience was time in January in 2018. As educator, comics guest artist I've had opportunity to work on project Engage for better world, with students in college Alfred Maugin, Gradignan, (Near Bordeaux France,) and later in Serbia in Niš with pupils(4th grade) in elementary school "Ivo Andrić" in February 2018. The result was children comics book Engage for better world, published in 2018.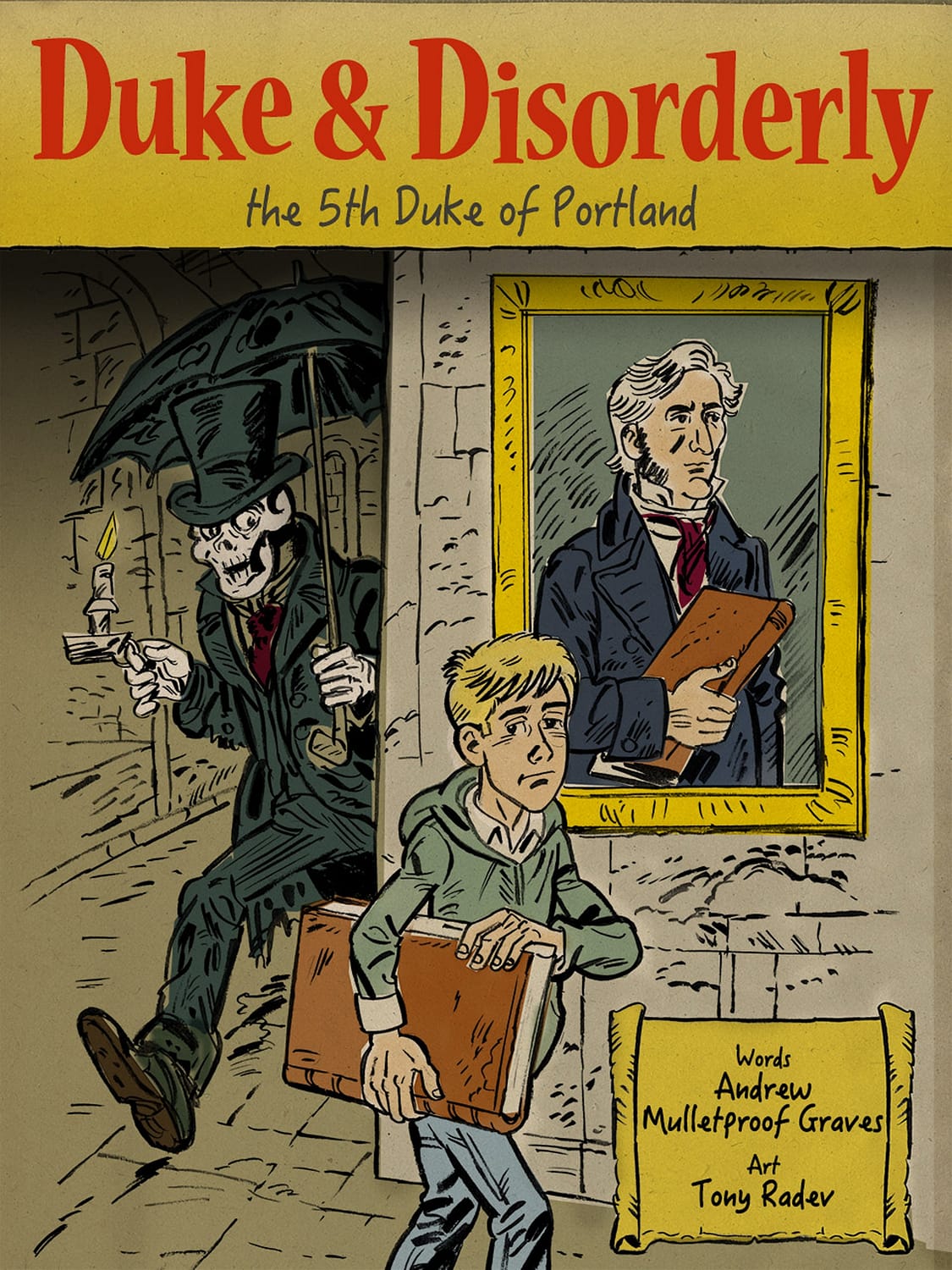 Few years ago I had an opportunity to start new project with Andrea Fazzini, italian writer, for a eries called Migu & Philoteo, and with Francesco Segala's colors. We try to promote this concept with five pages portfolio and characters, but publishers didn't respond quite positive, or at least not all of them, most had found that this is not in line with their editorial politics, or plans, etc. So this is on hold, for two years…At this moment I am mostly involved in temporary illustration jobs, for educational books, it depends. Concerning comics, I would like to had an opportunity to work on more "traditional"genres, such as humoruos adventures, or crime/thriller stories; maybe historical stories. I need to collaborate with writer with same interests. Looking forward to new comics projects, it depends how things will develop in near future.
Finally, I want to add that it is difficult to give advices to newcomers. But,
I have to say, work on comics or illustration depends mostly on serious work and honesty. Therefore, a guy or girl who are interested in comics, should also be willing to learn and develope, not only trough comics but also to art, visual art at first, then all other types. To be open enough, for good influences, sometimes to honest critique. But to listen to themself, to discover their own way, what attract them most, and always with honesty.
http://www.katarza.blogspot.com/