Hello Comics+BD,
I am from a family busy with politics and union work. My father was a worker at the Al-Junaid factory and my older brothers were political activists at universities and members of the university federations they belonged to. I was born and raised in an industrial, governmental environment with diverse cultures and ethnicities, and union and political activity that affected the formation of my political awareness, in addition to the home library, daily newspapers and pilgrimages with friends. I used to imitate my brothers in writing Arabic calligraphy, and from here my relationship with calligraphy developed later through the simulation of cartoons in newspapers, and political cartoons are nothing but lines and political awareness.
– Al-Sobyan magazine and the character of (Your Uncle Tango) is what the comedians have been affected by. They are the most important magazines and comic characters that we have grown up with, the Egyptian comedian Adel Imam who was able to laugh at our political reality and mock governments with great and immortal plays and films. Cartoonist Ezzedine Othman remains one of Sudan's greatest cartoonists and pioneer political cartoonists.
– I joined the Faculty of Economics at the University of Gezira. I used every moment of my time space or those spaces and margins on my notebooks as long as I held a pen. My friends and colleagues at the university encouraged me to hold a caricature exhibition, and I actually held an exhibition that achieved a great and unexpected success, after which I became active in political cartoons of the student unit at the university, became an advocate for student rights and an advocate for rights.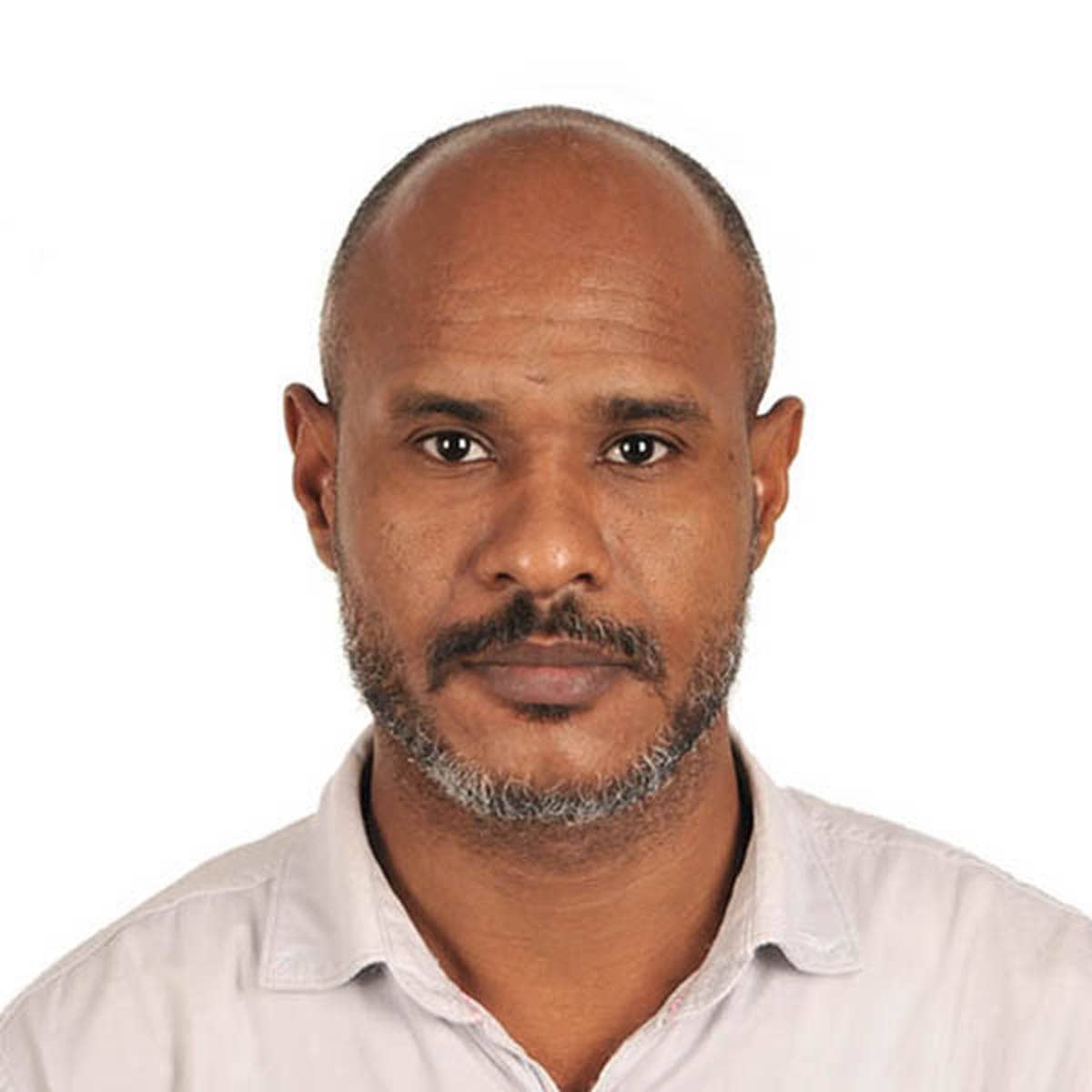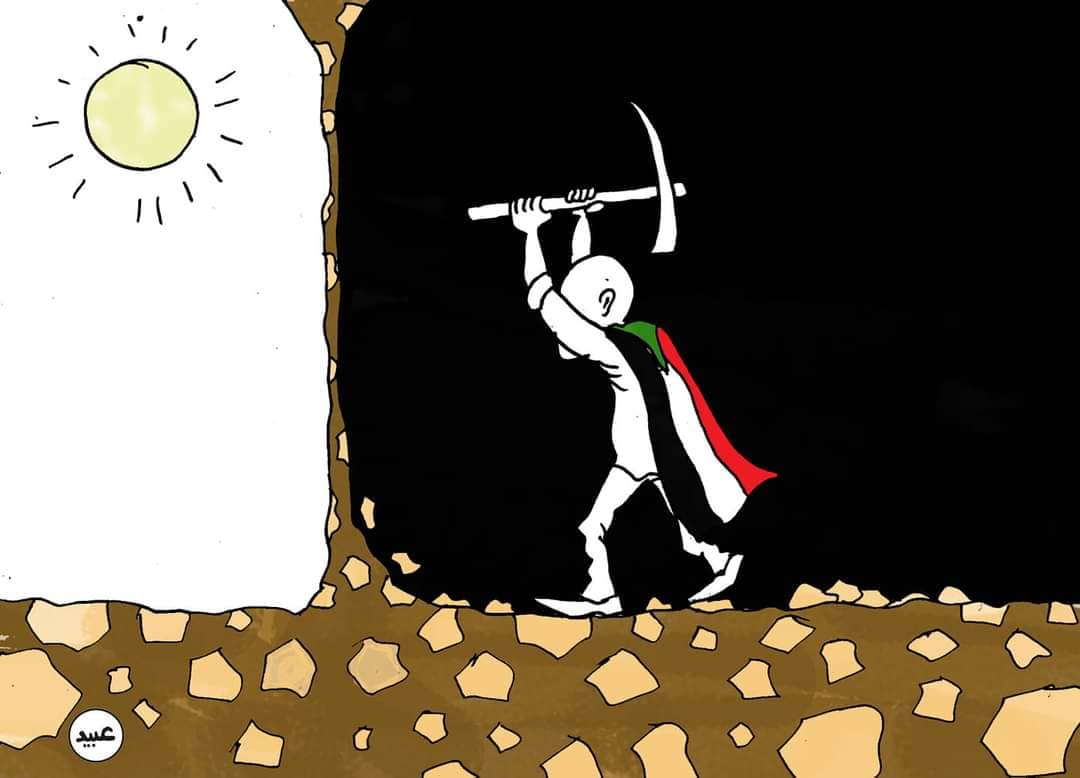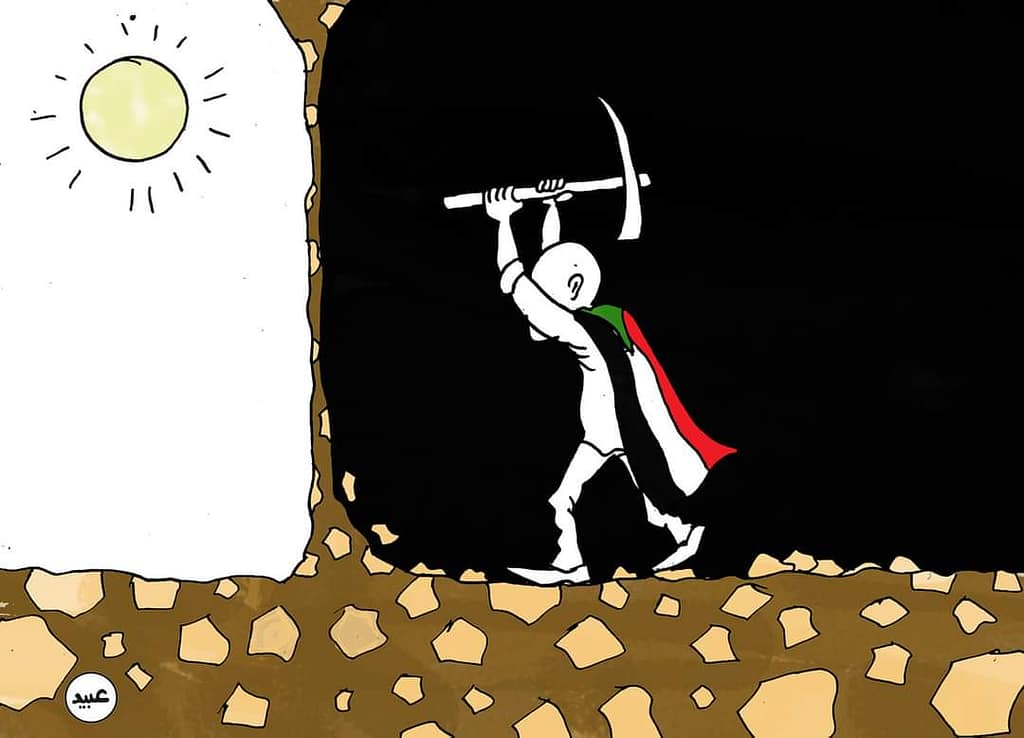 – I worked in many political newspapers and my work is still present in most Sudanese websites. I participated in many international exhibitions, obtained many certificates, and issued a book containing all my previous cartoons against the regime, and what I accomplished to push the Sudanese revolution and until the fall of the regime was a book documenting that era and how the Sudanese people were able to get rid of it.

– Cartoons in Sudan are widespread and influential, but without a material return for the painter, which made it difficult as a profession and professionalism, and if it were not for social media that provide at least a moral incentive. Moving the reader from the caricature accompanying the comment to without commenting, and this requires a lot of effort. Social media has also played an important role in enhancing people's perception of comics and separating political caricature from graphic joke.
– Of course, caricature works effectively to create public opinion and formulate people's trends. My experience during the Sudanese revolution, and after observing people's attitudes, I realized their fears, so I worked on drawing cartoons to dispel these fears and spread hope. In an hour it reached fifty thousand and spread and became an icon. The sphere of influence is expanding more and more. For me, many works, some of them had a great impact, some of which were the opening of the newspaper's front page, including participation in the International Conference on Freedom of the Press (Cartoon Movement) 2020, and among them my choice in the Olense competition for the category of Amnesty International, and I am still searching Report new achievements.
-Challenge and passion, caricature matures with practice, challenge and passion.  Every day a new challenge comes and the future comes day by day.